Switzerland is an European country, bordered by Austria, Germany, France and Italy. It's capital is Bern and there are some 7.5 million inhabitants. The Alps run through the center of the country.
Organisation
Ice hockey in Switzerland is partially promotion and relegation-based. The top level is the National League, which is divided in two: the National League A, which counts 12 teams, and the National League B, also with 12 teams. Promotion and relegation exists between these two levels. Below the National League comes the Regio League. There are four of these, numbered 1 to 4. The 1.Liga is divided into three regional groups, Ostschweiz, Zentralschweiz and Suisse Romande; all the leagues below are also subdivided into groups, all of which falling into one of the three regions of the 1.Liga. Here is a schema that illustrates the organization of Swiss hockey: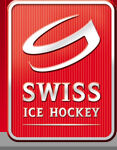 Swiss hockey scheme
League
Divisions
National League
National League A
National League B
1.Liga
Ostschweiz (13)
Zentralschweiz (12)
Suisse Romande (12)
2.Liga
Group 1 (12)
Group 2 (12)
Group 3 (10)
Group 4 (10)
Group 5 (10)
Group 6 (10)
3.Liga
Group 1 (6)
Group 2 (7)
Group 3 (10)
Group 4 (12)
Group 5 (8)
Group 6 (8)
Group 7 (8)
Group 8 (8)
Group 9 (10)
Group 10???
Group 11 (9)
Group 12 (10)
4.Liga
Group 1 (5)
Group 2 (?)
Group 3 (9)
Group 4 (7)
Group 5 (9)
Group 5a (7)
Group 5b (8)
Group 6a (7)
Group 6b (8)
Group 7a (8)
Group 8a (7)
Group 8b (7)
Group 9a (10)
Group 9b (9)
-
Group 11a (8)
-
History of hockey in Switzerland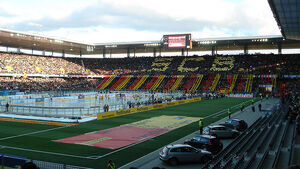 The first ice hockey games in Switzerland were played in 1902, and eight clubs in the French part of Switzerland created the country's first hockey league. In 1908, the Swiss Hockey Union was founded, and it became a member of the IIHF.
International
Switzerland

Info

Rinks

Players

Referees

837


Population

7,782,900

Indoor

157

Total

24,705

Male

--

Capital

Bern

Outdoor

31

Male

10,259

Female

--

IIHF Since

November 23 1908

Junior

13,709

Female

735
The Swiss men's national ice hockey team is a founding member of the International Ice Hockey Federation and is controlled by the Schweizerischer Eishockeyverband. As of 2008 the Swiss team was ranked 7th in the IIHF World Ranking. Switzerland has not won a medal at a major ice hockey tournament since a bronze medal at the 1953 World Championships, but they came close in 1998, finishing in 4th place.
The Swiss national hockey team scored two historic, unexpected upsets at the 2006 Winter Olympics in Turin, defeating the Czech Republic 3-2 and blanking Canada 2-0 two days later. They finally fell to Sweden in the quarterfinals.
Switzerland has a total of 24,705 players (0.35% of its population). Their coach is Sean Simpson. Swiss junior teams have also earned medals at IIHF Championships. The Swiss women's team won bronze medals in European Championship in 1995, and finished fifth at the World Championships in 1990.
Some great Swiss players
National Teams
See also
Category:Swiss hockey coaches
Swiss Cantons
Aargau

-
Appenzell Ausserrhoden

-
Appenzell Innerrhoden

-
Basel-City

-
Basel-Country

-
Bern
Fribourg

-
Genève

-
Glarus

-
Graubünden -
Jura

-
Lucerne
Neuchâtel

-
Nidwalden

-
Obwalden

-
Schaffhausen -
Schwyz

-
Solothurn
St. Gallen

-
Thurgau

-
Ticino -
Uri

-
Valais

-
Vaud
Zug

-
Zürich