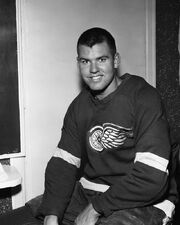 Stu McNeill (born September 25, 1938 in Port Arthur, Ontario) was a professional ice hockey centre who played ten games in the National Hockey League. He played with the Detroit Red Wings.
He played junior hockey for the Port Arthur North Stars from 1954 to 1957 and was loaned for the playoffs twice - once to the Regina Pats and once to the Fort William Canadians. In 1957 he shifted to the junior Hamilton Red Wings for two seasons, also playing 5 games for the Detroit Red Wings during that time.
McNeill's last season was 1959-60 when he played for the Edmonton Flyers and played another 5 games for Detroit.
In 10 NHL games, McNeill scored a goal and an assist.
Video
Silent footage from the Bruins-Red Wings game on January 31, 1959. Over six minutes of game play and goals by Gordie Howe, Jim Morrison and Earl Reibel are shown. More silent footage from the Bruins-Red Wings game on March 14, 1959 in which the Red Wings Stu McNeill scores his only NHL goal, a goal by Don McKenney to tie the score 2-2 and two goals by John Bucyk for a 4-2 Bruins win are shown.
References