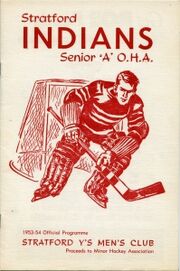 History
The Stratford Indians were a senior and junior team in Stratford, Ontario.
They won the Ontario Hockey Association's senior series in the first season that they played in 1906-07.
After that they did not repeat until 1951-52. That year they made it to the Allan Cup Final which they lost.
There was one junior team of the name. They played in the 1957-58 Western Ontario Junior B League where they finished fourth and lost the group quarter final.
Season-by-Season Results
Season
Games
Won
Lost
Tied
Points
Goals
for
Goals
against
Standing
Playoffs
1906-07
6
4
2
0
8
-
-
1st Group 2
Won Final
1923-24
12
9
2
1
19
53
27
1st Group 2
Lost Final
1924-25
20
12
8
0
24
-
-
2nd/Group 2
Lost Group Final
1925-26
20
6
13
1
13
54
66
5th/Group 2
Out of Playoffs
Season
Games
Won
Lost
Tied
Points
Goals
for
Goals
against
Standing
Playoffs
1929-30
12
5
7
0
10
34
32
4th/Group 2
Lost Group Quarter Final
1933-34
16
12
4
0
40
-
-
1st Group 2
Lost Final
Season
Games
Won
Lost
Tied
Points
Goals
for
Goals
against
Standing
Playoffs
1945-46
16
5
11
0
10
57
81
4th
Lost Semi Final
1946-47
24
5
19
0
10
69
112
5th
out of playoffs
1947-48
36
20
13
3
43
173
131
2nd
Lost Semi Final
1948-49
38
4
32
2
10
74
201
6th
out of playoffs
Season
Games
Won
Lost
Tied
Points
Goals
for
Goals
against
Standing
Playoffs
1951-52
50
33
16
1
67
264
175
1st
Won Final, Won East. Lost Allan Cup
1952-53
48
31
15
2
64
295
196
2nd
Lost Semi Final
1953-54
56
27
27
2
56
-
-
5th
Lost Final
1954-55
50
24
22
4
52
220
196
4th
Lost Semi Final
1955-56
48
24
21
3
51
205
190
2nd
Lost Semi Final
1956-57
51
26
20
5
57
219
211
4th
Lost Semi Final
Season
Games
Won
Lost
Tied
Points
Goals
for
Goals
against
Standing
Playoffs
1959-60
32
14
15
3
31
-
-
2nd West
Lost Semi Final
Season
Games
Won
Lost
Tied
Points
Goals
for
Goals
against
Standing
Playoffs
1960-61
40
18
21
1
37
149
172
3rd West
Lost Semi Final
1961-62
34
11
21
2
24
140
185
7th
Lost Semi Final