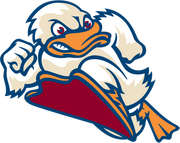 The Stevens Ducks is the name of the athletic teams representing the Stevens Institute of Technology or "Stevens Tech" in Hoboken, New Jersey.
Club Team
The university presently offers men's club hockey which was established in 2009. The university is an all-sport member of the NCAA Division III Middle Atlantic Conference which presently offers a men's ice hockey championship as a sub-group of teams within the United Collegiate Hockey Conference. The present day club team is based out of the Barnabas Health Hockey House at the Prudential Center in Newark, New Jersey which is the practice facility for the New Jersey Devils of the National Hockey League.
Former Varsity Team
The university previously had a varsity men's ice hockey team which played from about 1910 to 1916. Not much information has been recovered on the program, but; teams played games against varsity programs during the 1910-11, 1911-12 and 1915-16 seasons. The team appears to have played games at St. Nicholas Rink in New York City which was one of the main arenas to host ice hockey in the United States at the time and many collegiate and club teams would play two or three games in a weekend trip to New York. The team's first game appears to have been played during the 1910-11 season against the United States Military Academy in West Point, New York losing 3-0.