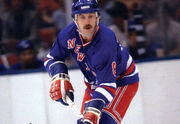 Steve Vickers (b. April 21st 1951 in Toronto, Ontario, Canada) is a former professional left winger who played in the National Hockey League for the New York Rangers.
Drafted 10th overall by the Rangers in the 1971 NHL Amateur Draft, the skilled player made his NHL-debuts on October 7th 1972 against the Detroit Red Wings, where he scored his first NHL goal on his first shot on the net, beating Denis DeJordy with a slapshot. Later in his rookie campaign, on Novermber 12th, Vickers scored his first hat trick against the Los Angeles Kings. He repeated the feat three days later against the Philadelphia Flyers, becoming the first player of the league's history to score hat tricks in back-to-back games. His first season was a success, as he scored 30 goals and added 23 assists and won the Calder Memorial Trophy as the league's best rookie.
Vickers had a lot of success playing along with Walt Tkaczuk and Bill Fairbairn, forming the Bulldog Line. He went on to play 698 games in the NHL, all with the Rangers, scoring 246 goals and adding 340 assists for 586 points. He established a Rangers' record for the most points in one match, scoring thrice and adding four assists on February 18, 1976 against the Washington Capitals. The record still holds today.
Married Joanna Harper in 1979 ending his legendary bachelor days.
Gallery
[
]
External Links
[
]