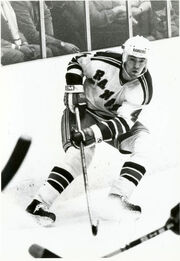 Steven L. Richmond (born December 11, 1959 in Chicago, Illinois) is a retired professional ice hockey player who played 159 games in the National Hockey League. He played with the New York Rangers, New Jersey Devils, Detroit Red Wings, and Los Angeles Kings, scoring 4 goals and 23 assists.
He played for the University of Michigan from 1978-1982. Undrafted by an NHL team, he was signed as a free agent by the New York Rangers. Richmond turned pro with the Tulsa Oilers.
Richmond rarely played a full season in the NHL. Usually he split the season with a minor pro team. He was traded to the Detroit Red Wings in 1985 and to the New Jersey Devils in 1986.
He won a Calder Cup with the Adirondack Red Wings in 1985-86.
Richmond retired in 1991.
References
[
]