Line 1:
Line 1:
 

[[Image:Steve Passmore.jpg|thumb|A photo of Steve Passmore.]]

 

[[Image:Steve Passmore.jpg|thumb|A photo of Steve Passmore.]]

−

'''Steve Passmore''' (born January 29, 1973 in [[Thunder Bay]], [[Ontario]]) is a [[Canada|Canadian]] professional [[ice hockey]] [[goaltender]] who is a unrestricted free agent. He was drafted by the [[Quebec Nordiques]] as their ninth-round pick (196th overall) in the [[1992 NHL Entry Draft]].

+

'''Steve Passmore''' (born January 29, 1973 in [[Thunder Bay]], [[Ontario]]) is a [[Canada|Canadian]] professional [[ice hockey]] [[goaltender]]. He was drafted by the [[Quebec Nordiques]] as their ninth-round pick (196th overall) in the [[1992 NHL Entry Draft]].

 
 
 

Passmore has spent most of his career in the [[American Hockey League|AHL]] and as a backup goaltender in the [[National Hockey League|NHL]]. During the [[2004–05 NHL lockout]] he played for the [[Mannheim Eagles]] in the [[Germany|German]] ice hockey league, and in November 2005 he signed with [[Jokerit]] in the [[Finland|Finnish]] [[SM-liiga]] to replace [[Karl Goehring]]. Passmore was also a disappointment, and was eventually replaced by [[Tom Askey]]. In January 2007 he was signed by [[Hockey Club Junior Milano Vipers|HCJ Milano Vipers]], Italian [[Serie A (hockey)|Serie A]]. Passmore is currently the goaltender coach for the [[Kamloops Blazers]].

 

Passmore has spent most of his career in the [[American Hockey League|AHL]] and as a backup goaltender in the [[National Hockey League|NHL]]. During the [[2004–05 NHL lockout]] he played for the [[Mannheim Eagles]] in the [[Germany|German]] ice hockey league, and in November 2005 he signed with [[Jokerit]] in the [[Finland|Finnish]] [[SM-liiga]] to replace [[Karl Goehring]]. Passmore was also a disappointment, and was eventually replaced by [[Tom Askey]]. In January 2007 he was signed by [[Hockey Club Junior Milano Vipers|HCJ Milano Vipers]], Italian [[Serie A (hockey)|Serie A]]. Passmore is currently the goaltender coach for the [[Kamloops Blazers]].

Line 72:
Line 72:
 

{{DEFAULTSORT:Passmore, Steve}}

 

{{DEFAULTSORT:Passmore, Steve}}

 

[[Category:Born in 1973]]

 

[[Category:Born in 1973]]

−

[[Category:Adler Mannheim player]]

+

[[Category:Adler Mannheim ]]

−

[[Category:Canadian hockey players]]

+

[[Category:Canadian hockey players]]

−

[[Category:Cape Breton Oilers player]]

+

[[Category:Cape Breton Oilers ]]

 

[[Category:Chicago Blackhawks players]]

 

[[Category:Chicago Blackhawks players]]

−

[[Category:Chicago Wolves player]]

+

[[Category:Chicago Wolves ]]

−

[[Category:Cleveland Lumberjacks player]]

+

[[Category:Cleveland Lumberjacks ]]

 

[[Category:Edmonton Oilers players]]

 

[[Category:Edmonton Oilers players]]

−

[[Category:Hamilton Bulldogs player]]

+

[[Category:Hamilton Bulldogs ]]

−

[[Category:HC Milano player]]

+

[[Category:HC Milano ]]

 

[[Category:Kamloops Blazers alumni]]

 

[[Category:Kamloops Blazers alumni]]

 

[[Category:Los Angeles Kings players]]

 

[[Category:Los Angeles Kings players]]

−

[[Category:Lowell Lock Monsters player]]

+

[[Category:Lowell Lock Monsters ]]

 

[[Category:Memorial Cup winners]]

 

[[Category:Memorial Cup winners]]

−

[[Category:Norfolk Admirals player]]

+

[[Category:Norfolk Admirals ]]

 

[[Category:Quebec Nordiques draft picks]]

 

[[Category:Quebec Nordiques draft picks]]

−

[[Category:San Antonio Rampage player]]

+

[[Category:San Antonio Rampage ]]

 

[[Category:Tri-City Americans alumni]]

 

[[Category:Tri-City Americans alumni]]

 

[[Category:Victoria Cougars alumni]]

 

[[Category:Victoria Cougars alumni]]

−

[[Category:San Antonio Dragons player]]

+

[[Category:San Antonio Dragons ]]

−

[[Category:Jokerit Helsinki player]]

+

[[Category:Jokerit Helsinki ]]
---
Latest revision as of 03:22, 15 October 2011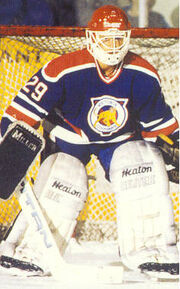 Steve Passmore (born January 29, 1973 in Thunder Bay, Ontario) is a retired Canadian professional ice hockey goaltender. He was drafted by the Quebec Nordiques as their ninth-round pick (196th overall) in the 1992 NHL Entry Draft.
Passmore has spent most of his career in the AHL and as a backup goaltender in the NHL. During the 2004–05 NHL lockout he played for the Mannheim Eagles in the German ice hockey league, and in November 2005 he signed with Jokerit in the Finnish SM-liiga to replace Karl Goehring. Passmore was also a disappointment, and was eventually replaced by Tom Askey. In January 2007 he was signed by HCJ Milano Vipers, Italian Serie A. Passmore is currently the goaltender coach for the Kamloops Blazers.
He played in a total of 93 NHL games.
 
 
Season
Team
League
GP
W
L
T
MIN
GA
SO
GAA
SV%
2004–05
Adler Mannheim
DEL
21
-
-
-
1110
48
0
2.59
--.--
2005–06
Jokerit
SM-liiga
15
5
0
8
830.38
50
1
3.61
89.13%
http://www.goaliestore.com/board/equipment-reviews/75650-eagle-odyssey-steve-passmore-blocker.html
Community content is available under
CC-BY-SA
unless otherwise noted.