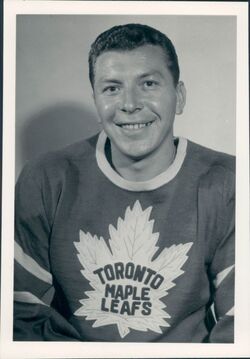 Stephen S. Kraftcheck (born March 3, 1929 in Tintern, Ontario) was a Canadian ice hockey defenceman and coach.
He played junior hockey in Hamilton for the Hamilton Lloyds and the Hamilton Aerovox from 1945 to 1948. Kraftcheck then turned pro with the San Francisco Shamrocks in 1948-49. He played part of the 1950-51 season for the Boston Bruins and then the 1951-52 and 1952-53 seasons for the New York Rangers. Except for 8 games with the Toronto Maple Leafs in 1958-59, that was the extent of his NHL career, which consisted of 11 goals and 18 assists in 157 games.
He now played in the American Hockey League (AHL). Kraftcheck joined the Cleveland Barons in 1953-54 and stayed with them through the 1957-58 season. In 1958-59 he was signed by the Rochester Americans and stayed with them until 1962-63, when he joined the Providence Reds for his last two seasons before retiring in 1964.
In the AHL, he was a second all-star in 1956 and 1961 and a first all-star from 1957 to 1960. In 1959 he won the Eddie Shore Award as the best defenceman.
He was a player-coach of the Americans for three seasons from 1958 to 1961.
External links
Edit
Community content is available under
CC-BY-SA
unless otherwise noted.