Honoured Member of the Manitoba Hockey Hall of Fame - Builders Category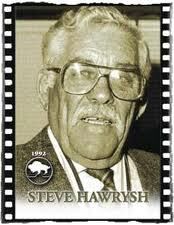 Steve "Boomer" Hawrysh
Hometown: Dauphin, Manitoba
Died: February 14, 1995
Sons: Wayne, Ed, & Raymond Hawrysh
Nephews: Brian Koshey, Ken Koshey and Jack Koshey
Position: Defense, Coach, General Manager, Chief Scout, Director of Player Personnel, Director of Player Development and Scouting


Steve signed his first M.A.H.A. card in 1931-32 as a midget player and in 1992, "Boomer" reached a milestone - 60 consecutive years of total hockey involvement in Manitoba (apart from the war years) when on March 28, 1992, he was inducted into the Manitoba Hockey Hall of Fame along side the WHA's Winnipeg Jets "Hot" Line, which consisted of Bobby (the Golden Jet) Hull, Anders Hedberg and Ulf Neilson.
As a player, Steve was on three Manitoba Championship Winners with the Dauphin Intermediate Kings. In 1952, he retired from playing and began coaching in the Dauphin minor hockey system. Steve has coached Manitoba Champions in Bantam "A", Midget, Juvenile, Junior "B", Junior "A" and Intermediate.
Steve was also one of the original architects of the modern era Manitoba Junior Hockey League. Boomer, along with representatives from the Selkirk Steelers, Portage Terriers and Fort Garry Frontiersmen (which became the Kenora Muskies in 1968) formed the Central Manitoba Junior Hockey League in the fall of 1967 and the following year, the CMJHL merged with the four teams from Winnipeg to form the Manitoba Junior Hockey League.
In 1971-72, Steve established a modern-day MJHL coaching record when his Dauphin Kings completed the year with 40 regular season victories (0.833%) in a 48-game schedule, scoring 304 goals while allowing 171 goals against and amassing 1341 minutes in penalties, and then following that with 12 straight Provincial playoff victories (1,000%) to claim the Turnbull Trophy which is emblematic of Junior "A" Hockey supremacy in Manitoba.
Boomer was known in hockey circles far and wide for his ability as a scout; that is, the ability to spot youngsters who develop into good players, a skill he used as a representative for the Detroit Red Wings of the National Hockey League and the Philadelphia Blazers and Winnipeg Jets of the World Hockey Association.
On October 7, 2017, Steve was posthumously inducted into the Manitoba Hockey Hall of Fame for a second time as a member of the Dynasty 1950 - 1954 Dauphin Kings Intermediate Hockey Club.
1957-58 - Coach & General Manager - Dauphin Bantam A Kings - MB Provincial Champions; 1958-59 - Coach & General Manager - Dauphin Midget Kings - MB Provincial Champions; 1959-60 - Coach & General Manager - Dauphin Juvenile Kings - MB Provincial Champions; 1961-62 - Coach - Dauphin Kings - Riding Mountain Intermediate Hockey League; 1964-65 - Coach & General Manager - Dauphin Jr. B Red Wings; 1965-66 - Coach & General Manager - Dauphin Jr. B Red Wings; 1966-67 - Coach & General Manager - Dauphin Jr. B Red Wings - MB SK Provincial Champions; 1968-69 - Chief Scout & Director of Player Personnel - Dauphin Jr. A Kings - MB Provincial Champions; Coach & General Manager - Dauphin Jr. B Kings; 1969-70 - General Manager - Dauphin Jr. A Kings - MB Provincial Champions; 1970-71 - Coach & General Manager - Dauphin Jr. A Kings; 1971-72 - Coach & General Manager - Dauphin Jr. A Kings - MB Provincial Champions; 1974-75 - Coach & General Manager - Dauphin Jr. A Kings; 1975-76 - Co-Coach & General Manager - Dauphin Jr. A Kings; 1976-77 - General Manager & Director of Player Personnel - Dauphin Jr. A Kings - MB Provincial Champions; 1978-79 - Coach & General Manager - Dauphin Jr. A Kings; 1979-80 - Coach - Ste. Rose Royals Intermediate Hockey Club - South West Hockey League Champions; 1985-86 - Director of Player Development & Scouting - Dauphin Jr. A Kings; 1986-87 - General Manager - Dauphin Jr. A Kings; 1987-88 - General Manager - Dauphin Jr. A Kings
Career Statistics
Playing
Coaching
Managing
Awards & Achievements
Photo Album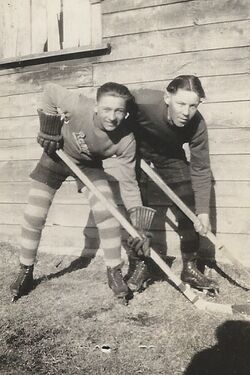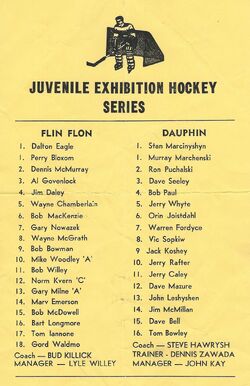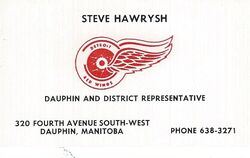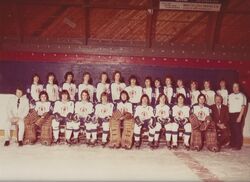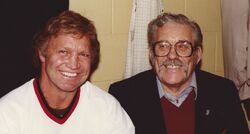 External links