The Steinbach Pistons are a Canadian Junior "A" hockey team from Steinbach, Manitoba. They are members of the Manitoba Junior Hockey League (MJHL), a part of the Canadian Junior Hockey League and Hockey Canada.
During the 2009 Allan Cup in Steinbach, the city announced that the Beausejour Blades would relocate to Steinbach for the 2009-10 season. To encourage success team owner Mel Sonnenberg sold a portion of his club to local interests.
In August 2012, the community took over ownership, and the team would go on to win the league championship.
see

Pistons History
Season-by-Season Record
Note: click on season for team rosters or on league for direct link to that season.
Team / Franchise Records
Team Canada West Selections
MJHL Award Winners, League Leaders, & All-Stars
MJHL Scholarship Winners
CJHL Awards Winners
NHL Draft Picks
Pistons Lists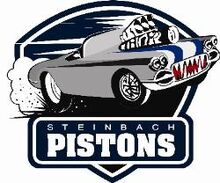 External Links