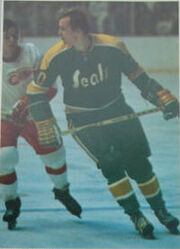 Stanley Frank Gilbertson (born October 29, 1944 in Duluth, Minnesota) is a retired American ice hockey player. He played 428 games in the National Hockey League for the California Golden Seals, St. Louis Blues, Washington Capitals, and Pittsburgh Penguins between 1971 and 1977. He lost the lower part of his leg in a 1977 car accident right before training camp and had to retire from hockey.
He played junior hockey for the Estevan Bruins (then a Boston Bruins farm team) and Regina Pats from 1962 to 1965. He turned pro with the San Francisco Seals in 1965-66. The depth of the Boston organization kept Gilbertson in the minors for six years. He helped the Hershey Bears win the Calder Cup in 1968-69.
Gilbertson finally got his NHL chance in 1971 when the California Golden Seals claimed him in the intra-league draft. He played three seasons for the Seals, scoring 40 goals. In the middle of the 1974-75 season he was traded to the St. Louis Blues and then to the expansion Washington Capitals. The next season he scored a career-high 26 goals for the Capitals and the Pittsburgh Penguins.
In September, 1977, Gilbertson suffered a career-ending car accident when he lost his lower leg.
In the NHL Gilbertson played in 428 games and scored 85 goals and 89 assists. In his six NHL seasons, he only played in 3 playoff games (with Pittsburgh) and scored a goal and an assist.
References
[
]