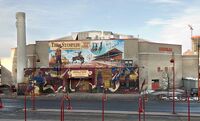 The Stampede Corral (also known as the Calgary Corral) was an arena in Calgary, Alberta, Canada. The arena was completed in 1950 at a cost of $1.25 million to replace Victoria Arena as the home of the Calgary Stampeders Hockey Club. Seating 6,475, plus standing room, it is used in the annual Calgary Stampede. The Corral was built and is still owned by the Calgary Stampede non-profit organization, which leases the underlying land at $1/year from the city of Calgary.
At the time of construction, it was the largest arena in Canada west of Toronto. It was officially opened on December 15, 1950. The first hockey game was held at the Corral on December 26, as the Stampeders defeated the Edmonton Flyers 5–0 in a Western Canada Senior Hockey League game before a standing-room-only crowd of 8,729.
The Corral has hosted several major events, including the 1972 World Figure Skating Championships, and Figure Skating and ice hockey at the 1988 Winter Olympics.
The arena is being demolished starting July, 2020 and should be completed by March, 2021.[1]
The arena was demolished between October 2020 and March 2021.
Former tenants
References