The Stade de Suisse, Wankdorf is a football stadium in Berne, Switzerland with a capacity of about 32,000.
Ice hockey attendance record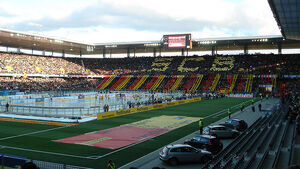 The Stade de Suisse with its artificial turf surface was an ideal candidate to provide Europe its first "new era" outdoor attendance record for ice hockey . The idea of playing high profile ice hockey games in a larger venue was first realized with the Cold War between Michigan State University and the University of Michigan at Spartan Stadium in East Lansing Michigan in 2001.
On January 14, 2007, the massive local rivalry of SC Bern and SC Langnau managed to fill the Stade de Suisse with 30,076 fans, an event which was sold out within 53 hours of tickets going on sale. These two rivals regularly fill SC Bern's home venue Bern Arena with over 16,000 spectators.