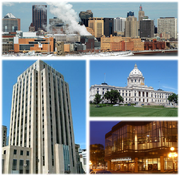 St. Paul is the capital and second largest city in Minnesota. Along with its twin city, Minneapolis, it has a metropolitan area of 3,200,000 people. St. Paul itself has a population of about 585,000.
St. Paul has hosted:
the Frozen Four in 1989, 1991, 1994, and 2002
the 54th NHL All-Star Game in 2004
the 1988 to 1993, 1995, 1997, and the 2001 to present WCHA Men's Hockey Tournament
(WHA, 1972-1976) ceased operations February 28, 1976 after aborted attempt to move to Hollywood, Florida
WHA, 1976-1977) folded January 20
(Thunder Bay-Minnesota Junior A Hockey League, 1971-1972) become St. Paul Jr. Stars in Can-Am Junior Hockey League
(Midwest Junior Hockey League, 1973-1975) become Bloomington Jr. Stars
Minnesota Moose (IHL, 1994-1996) became Manitoba Moose
Minnesota Natonals (United States Hockey League, 1967-1968) 1968 US Olympic Hockey team
Minnesota Rangers (Central Professional Hockey League, 1965-1966) become Omaha Knights
Minnesota Wild (NHL, 2000-present)
St. Paul 7-Up (American Amateur Hockey League, 1947-1950) merged with St. Paul Koppys
St. Paul 7-Up-Koppys (American Amateur Hockey League, 1950-1951) withdrew
St. Paul Athletic Club (USAHA, 1920-1925) join Central Hockey League as St. Paul Saints
St. Paul Capitols (U.S. Central Hockey League, 1958-1959)
St. Paul Fighting Saints (American Hockey Association, 1992-1993)
St. Paul Greyhounds (American Hockey Association, 1933-1933) moved back to Tulsa mid-season
St. Paul Jr. Stars Can-Am Junior Hockey League, 1972-1973) join Midwest Junior Hockey League as Minnesota Jr. Stars
St. Paul Koppys (American Amateur Hockey League, 1947-1950) merged with St. Paul 7-Up
St. Paul K.S.T.P. (U.S. Central Hockey League, 1957-1958)
St. Paul Lakers (MJHL, 2003-2009) become Edina Lakers
St. Paul Peters (U.S. Central Hockey League, 1955-1956)
St. Paul Rangers (CHL, 1963-1965) renamed Minnesota Rangers when Minneapolis Bruins leave area
St. Paul Saints (1921-1957)
(WCHA, 1951-2013) joining Big Ten Conference
Big Ten Conference, (2013-Charter member)
RiverCentre (1973-1998) also known as St. Paul Civic Center Arena (located on site of present Xcel Energy Center
Roy Wilkins Auditorium (1932-Present) known as St. Paul Auditorium until 1985
Xcel Energy Center (2000-Present)
Arlington Recreation Center
Baker Recreation Center Rink
Battle Creek Recreation Center Rink
Biff Adams Ice Arena
Charles M. Schulz-Highland Arena Complex
Conway Recreation Center Rink
Daytons Bluff Recreation Center Rink
Desnoyer Recreation Center Rink
Drake Ice Arena
Dunning Recration Center Rink
Eastview Recreation Center Rink
El Rio Vista Recreation Center Rink
Griggs Recreation Center Rink
Groveland Recreation Center Rink
Gustafson-Phalen Skating Arena
Hancock Recreation Center Rink
Harding Arena
Hazel Park Recreation Center Rink
Hillcrest Recreation Center Rink
Homecroft Recreation Center Rink
Langford Recreation Center Rink
Linwood Recreation Center Rink
Mattocks Park Rink
Merriman Park Recreation Center Rink
Minnesota State Fair Coliseum
Nathan Hale Park Rink
North Dale Recreation Center Rink
Northwest Como Recreation Center Rink
Oscar Johnson Arena
Palace Recreation Center Rink
Phelan Recreation Center Rink
Pleasant Arena
Prosperity Recreation Center Rink
Sylvan Recreation Center Rink
Talmud Torah Park Rink
Wells Fargo WinterSkate Ice Rink
West Minnehaha Recreation Center Rink
Yackel West Side Arena
Community content is available under
CC-BY-SA
unless otherwise noted.