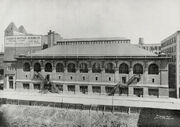 The St. Nicholas Rink, also called the St. Nicholas Arena, was an indoor ice rink, and later a boxing arena in New York, New York, from 1896 until 1962. The rink was the second ice rink utilizing mechanically frozen ice for its surface in North America, (the second after an arena in Baltimore, Maryland built in 1894), enabling a longer season for skating sports. It was demolished in the 1980s.
As a rink, it was used for pleasure skating, and the sports of ice hockey and skating. It was an important rink in the development of both sports in the United States. As a boxing arena, it was one of the first legal venues for boxing and remained a busy venue until its closing, although as the popularity of boxing grew, the sport outgrew the capacity of the arena to hold title fights. The arena hosted live boxing on television.
St. Nicholas Rink opened November 7, 1896, at 69 West 66th Street, on the northeast corner of 66th Street and Columbus Avenue. The builders included Cornelius Vanderbilt and John Jacob Astor. Flagg and Chambers were the architects. The ice rink used a mechanically frozen ice or "artificial ice" surface using techniques developed at the Glaciarium in London, England. A basement ice-making factory shared the ice-making equipment. The arena was used exclusively for ice sports until 1906, when boxing was introduced.
The rink was the home of the St. Nicholas hockey club of the (New York) Amateur Hockey League. The league operated its first season in 1896–97. The rink was also the site of numerous exhibitions of Canadian ice hockey teams both against New York area teams and between the Canadian teams. A challenge between amateur teams of the U.S. and Canada was held there, called the "International Amateur Championship".
On February 26, 1900, the rink was the site of the first ice hockey game between Harvard University and Yale University, won by Yale 5–4.
The arena was the site of the first game between women's ice hockey teams in the United States. In 1917, the St. Nicholas team defeated Boston 1–0.
The St. Nicholas men's amateur team eventually moved to Madison Square Garden and played on Sunday afternoons in the Eastern Amateur Hockey League.
Ritter, Lawrence S. (1998). East Side, West Side: Tales of New York Sporting Life, 1910-1960. New York, NY: Total Sports. ISBN 9780965694964.

 
Community content is available under
CC-BY-SA
unless otherwise noted.