The St. Louis Storm are a junior ice hockey team from St. Louis, Missouri. The team is a member of the United States Premier Hockey League. The team is based out of FSI Shark Tank Arena.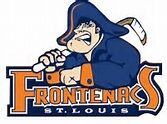 The team began play with the 2008-09 season in the Great Lakes Junior Hockey League as the Illinois Frontenacs based out of Fairview Heights, Illinois. In 2010 the team relocated to the FSI Shark Tank Arena in St Louis, Missouri The team would move to the Minnesota Junior Hockey League in 2012 along with several other league members when the league announced a decision to change to Inline hockey under the sanctioning of the Amateur Athletic Union. In 2015 the team would end up in the newly formed USPHL Midwest Division along with the membership of the Midwest Junior Hockey League and the majority of the members of the Minnesota Junior Hockey League. The team would be renamed the St. Louis Storm after joining the USPHL.
The St. Louis Storm ceased operations August 21, 2015.
Logo Controversy
[
]
When the team was established in 2008 the team chose the nickname "Frontenacs" which was the same nickname that the Kingston Frontenacs of the Ontario Hockey League had. The controversy occurred when the team used a very similar logo to the Kingston team's logo albeit with different colors. The Illinois team did not get the permission of the OHL team to use the similar logo, which was a registered trademark with the Canadian Intellectual Property Office. The OHL team did not register the logo in the United States and as the Illinois team didn't play any games in Canada the issue was not enforcable.
Season-by-season results
[
]
Regular Season
Playoffs
Season
Games
Won
Lost
OTL
SOL
Points
Goals
for
Goals
against
Standing
1st
round
2nd
round
3rd
round
Finals
Great Lakes Junior Hockey League
Illinois Frontenacs
2008-09
42
28
12
0
2
58
153
135
2nd
Playoff information unavailable
2009-10
48
22
23
2
1
47
185
209
7th,
Playoff information unavailable
St. Louis Frontenacs
2010-11
40
19
20
1
0
39
159
162
4th, West
Playoff information unavailable
2011–12
45
14
29
0
2
30
162
213
5th, West
Playoff information unavailable
Minnesota Junior Hockey League
2012–13
50
4
44
2
-
10
99
339
8th, Great Lakes
L 2-0 (Wisconsin)
-
-
-
2013–14
46
1
41
4
0
6
83
315
Did not qualify
2014–15
38
0
38
0
0
0
54
278
6th, Great Lakes
L 2-0 (Illiana)
-
-
-
USPHL Midwest Division
St. Louis Storm
Ceased operations August 21, 2015