The St. Cloud Blizzard is a Junior A ice hockey team in the North American Hockey League's (NAHL) central division. The Blizzard play out of the St. Cloud Municipal Athletic Complex in St. Cloud, Minnesota. The organization is focused on helping young hockey players develop their skills and provide opportunities for them to be recruited by college and professional scouts. The team consists of players ranging in age from 16–20 years old who relocate to St. Cloud from all over the United States and the world.
The team began the 2005-2006 season as the Minnesota Blizzard based in Alexandria, Minnesota, one of four expansion teams that started operations that year. The next season, the team was rebranded as the Alexandria Blizzard, which remained its name until the move to Brookings. While in Alexandria, the team played at the Runestone Community Center.
On June 3, 2019 the NAHL's Board of Governors announced approval of the relocation of the team to St. Cloud, Minnesota for the 2019-20 season.  The team will be renamed the St. Cloud Blizzard and will be based out of the St. Cloud Municipal Athletic Complex.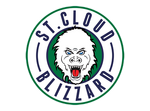 On May 6, 2020 the organization announced that the name of the team was being changed to the St. Cloud Norsemen.  The team cited a lack of time to change the nickname prior to the 2019-20 season.[1]
Season-by-season records
Season
GP
W
L
OL
SL
PTS
GF
GA
PIM
Finish
Playoffs
Minnesota Blizzard
2004–05
56
28
24
4
-
60
159
198
1,360
4th, Central
Lost 1st Round, 0-3 vs. Fargo-Moorhead Jets
2005–06
58
24
29
5
-
53
158
219
1,235
4th, Central
Lost 1st Round, 2-3 vs. Southern Minnesota Express
Alexandria Blizzard
2006–07
62
28
29
5
-
61
165
193
1,325
3rd, Central
Lost 1st Round, 2-3 vs. Southern Minnesota Express
2007–08
58
29
25
4
-
62
222
223
1,517
3rd, Central
Won 1st Round, 3-2 vs. Southern Minnesota Express
Won 2nd Round, 3-2 vs. Springfield Jr. Blues
Eliminated (0-3) in Robertson Cup Round Robin
(L, 2-3 vs. Bandits; L, 2-4 vs. RoadRunners; L, 1-6 vs. Phantoms)
2008–09
58
26
26
6
-
58
180
201
1,215
4th, Central
Lost 1st Round, 1-3 vs. Bismarck Bobcats
2009–10
58
30
22
6
-
66
180
166
870
3rd, Central
Won 1st Round, 3-1 vs. Owatonna Express
Lost 2nd Round, 0-3 vs. Bismarck Bobcats
2010–11
58
33
19
6
-
72
208
177
923
1st, Central
Lost 1st Round, 2-3 vs. Bismarck Bobcats
2011–12
60
40
15
5
-
85
212
156
815
2nd, Central
Lost 1st Round, 1-3 vs. Austin Bruins
Brookings Blizzard
2012–13
60
32
23
5
-
69
175
179
1204
3rd, Central
Lost 1st Round, 0-3 vs. Bismarck Bobcats
2013–14
60
18
34
8
-
44
132
206
1263
5th, Central
Did not qualify
2014–15
60
19
32
9
-
47
141
206
968
5th, Central
Did not qualify
2015–16
60
25
29
6
-
56
149
200
985
4th, Central
Lost Div. Semifinals, 1-3 vs. Bismarck Bobcats
2016–17
60
30
25
4
1
65
192
193
973
3rd, Central
Lost 1st Round, 2-3 vs. Minnesota Wilderness
2017-18
60
23
30
2
5
53
169
211
778
6th, Central
Did not qualify
2018-19
60
11
44
3
2
27
115
242
-
6th, Central
Did not qualify
St. Cloud Blizzard
2019-20
52
10
37
4
1
25
130
240
-
6th, Central
playoffs cancelled
St. Cloud Norsemen
2020-21
56
22
33
0
1
45
151
206
917
6th, Central
Did not qualify
External links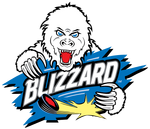 References