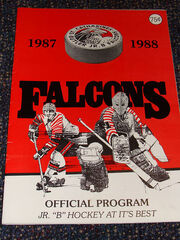 The St. Catharines Falcons are a Canadian junior ice hockey team based in St. Catharines, Ontario, Canada. They play in the Golden Horseshoe division of the Greater Ontario Junior Hockey League. The Falcons play their home games inside Jack Gatecliff Arena in downtown St. Catharines.
History
The current Falcons franchise originated in 1968. The league entered the "Niagara District Junior "B" Hockey League" that same year. The Niagara "B" became the Golden Horseshoe "B" in 1974. The Falcons have competed every year in the league since 1968.

In 2012, the Falcons would attempt to win the Sutherland Cup for the first time in six tries. They would end up defeating the Brantford Eagles 4-games-to-2 to clinch their first ever OHA Junior B championship.
The 2013-14 Falcons had won the 2013-14 Golden Horseshoe regular season crown with the best record by a Junior B team since the 1980s (45-3-1), but were caught with two many imports against the Caledonia Corvairs and Welland Jr. Canadians. Due to the protest by those two teams to the Ontario Hockey Association, the Falcons were stripped of the two victories, which slipped them back to second place in the standings (43-5-1) and allowed Caledonia a superior record (45-3-1) and playoff seed.[1]
Memorable Games
On March 26th, 2006 the St. Catharines Falcons played one of the most memorable games in their history. In Game 6 of the semi-finals against the Thorold Blackhawks, the team played an epic four-overtime game. Ironically, if the falcons had won they would have played game 7 on the same day game 6 ended.
Season-by-season results
Season
GP
W
L
T
OTL
GF
GA
P
Results
Playoffs
1970-71
36
28
5
3
231
124
1st NDJBHL
Won League
1971-72
35
28
1st NDJBHL
Won League
1974-75
40
22
14
4
-
248
210
48
4th GHJHL
Lost Final
1975-76
40
28
7
5
-
291
209
61
1st GHJHL
Won League
1976-77
32
19
7
6
-
235
147
44
1st GHJHL
Won League
1977-78
40
26
9
5
-
285
167
57
1st GHJHL
Won League
1978-79
42
35
5
2
-
322
155
72
1st GHJHL
Won League
1979-80
44
27
13
4
-
296
234
58
4th GHJHL
Lost Final
1980-81
42
36
2
4
-
308
135
76
1st GHJHL
Won League
1981-82
36
20
9
7
-
-
-
47
1st GHJHL
Won League
1982-83
42
26
12
4
-
261
192
56
1st GHJHL
Lost Final
1983-84
42
22
11
9
-
246
200
53
3rd GHJHL
1984-85
42
30
4
8
-
274
154
68
1st GHJHL
Won League
1985-86
40
23
10
7
-
268
188
53
2nd GHJHL
Won League
1986-87
42
25
11
6
-
231
171
56
3rd GHJHL
1987-88
42
17
20
5
-
241
233
39
4th GHJHL
1988-89
42
24
14
4
-
231
200
52
3rd GHJHL
1989-90
48
40
6
0
2
362
188
82
1st GHJHL
Won League
1990-91
42
26
13
2
1
282
186
55
3rd GHJHL
1991-92
42
27
12
2
1
296
194
57
2nd GHJHL
Won League
1992-93
42
27
13
1
1
272
194
56
3rd GHJHL
1993-94
40
34
6
0
0
350
153
68
1st GHJHL
Won League
1994-95
42
22
16
4
4
232
194
52
3rd GHJHL
Lost Final
1995-96
50
33
14
3
0
224
171
69
3rd GHJHL
Lost Final
1996-97
42
30
10
1
1
276
169
62
3rd GHJHL
Won League
1997-98
49
30
13
5
1
248
169
66
2nd GHJHL
Lost Final
1998-99
48
31
14
0
3
212
140
65
2nd GHJHL
Won League
1999-00
48
31
12
4
1
215
130
67
2nd GHJHL
Won League
2000-01
48
12
35
1
0
149
266
25
7th GHJHL
2001-02
47
10
29
3
5
165
248
28
6th GHJHL
2002-03
48
21
24
3
0
163
187
45
5th GHJHL
2003-04
48
16
30
2
0
126
179
34
5th GHJHL
2004-05
48
26
18
3
1
179
139
56
3rd GHJHL
2005-06
49
33
13
2
1
220
167
69
2nd GHJHL
Lost Semi-final
2006-07
49
34
11
2
2
278
183
72
2nd GHJHL
Won League
2007-08
49
28
14
5
2
208
158
63
3rd GOJHL-GH
Lost Conf. Final
2008-09
52
36
9
-
7
261
150
79
1st GOJHL-GH
2009-10
51
38
8
-
5
280
146
81
1st GOJHL-GH
Lost Conf. Final
2010-11
51
34
13
-
4
218
136
72
3rd GOJHL-GH
Lost Conf. SF
2011-12
51
40
9
-
2
257
117
82
1st GOJHL-GH
Won League
2012-13
51
39
8
-
4
298
131
82
1st GOJHL-GH
Lost Round Robin SF
2013-14
49
43
5
-
1
253
128
87
2nd GOJHL-GH
Lost Conf. Final
2014-15
49
31
13
-
5
222
130
67
2nd GOJHL-GH
Won Conf. Quarter-finals, 4-1 (Blackhawks)
Won Conf. Semi-finals, 4-1 (Jr. Canadians)
Lost Conf. Finals 1-4 (Corvairs)
2015-16
50
33
12
2
3
212
121
71
2nd of 8-GH
5th of 26 GOJHL
Won Conf. Quarter-finals, 4-1 (Jr. Canadians)
Won Conf. Semi-finals, 4-2 (Avalanche)
Lost Conf. Finals 0-4 (Corvairs)
2016-17
50
40
7
0
3
289
101
83
2nd GOJHL-GH
Won Conf. Quarter-Finals, 4-0 (Panthers)


Won Conf. Semi-finals, 4-2 (Canucks)
Lost Conf. Finals, 4-2 (Corvairs)

2017-18
50
38
8
1
3
227
116
80
2nd GOJHL-GH
Won Conf. Quarter-Finals, 4-0 (Panthers)
Won Conf. Semi-finals, 4-3 (Avalanche)
Lost Conf. Finals, 0-4 (Corvairs)
2018-19
47
39
6
0
2
259
106
80
2nd GOJHL-GH
Won Conf. Quarter-Finals, 4-0 (Jr. Canadians)
Won Conf. Semi-finals, 4-2 (Kilty B's)
Lost Conf. Finals, 3-4 (Canucks)
2019-20
50
33
15
2
0
201
119
68
3rd GOJHL-GH
Won Conf. Quarter-finals 4-0 (Panthers)
Balance of playoffs cancelled by Hockey Canada due to COVID-19 pandemic
2020-21
Season cancelled due to COVID-19 pandemic
Notable alumni
Steve Rymsha

Jacques Michaud
References
External links