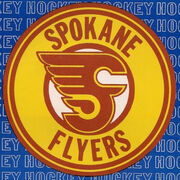 The Spokane Flyers were a senior amateur team that played in Spokane, Washington.
They played in the Western International Hockey League (WIHL) from 1948-49 through 1957-58.
In 1958-59 the WIHL Flyers were replaced by a team of the same name in the Western Hockey League (WHL) In 1959-60, the league insisted that the Flyers change their name since the Edmonton Flyers owned the rights to the name. A fan contest came up with the Spokes.
That name lasted only one season. From 1960-61 through 1962-63 the city had the Spokane Comets in the WHL.
After the Comets folded in 1963 Spokane was represented in the WIHL by the Spokane Jets until 1974 when the team was renamed the Flyers.
They withdrew from the WIHL in 1978 to join the Pacific Hockey League (PHL). The PHL was a professional league which meant that the Flyers could sign pros. Also the Flyers had been subsidising the other (smaller) WIHL cities. The other cities in the PHL were bigger (Los Angeles, San Francisco, San Diego, Tucson, and Phoenix) and it was felt that their teams would be better draws than the small WIHL teams.
However the league only lasted that one season (1978-79) and the Flyers rejoined the WIHL.
They played until the league folded in 1982.
In the team's early years it was not eligible for the Allan Cup because it was an American-based team. The Flyers won the league title in 1948-49 and 1949-50 but could not advance to the Allan Cup playoffs. Instead the team advanced to the American championships.
The Flyers won the 1948-49 United States National Senior Championship. In the 1949-50 United States National Senior Championship the Flyers had to split the title with the Chatham Maroons.
Later on the Flyers were allowed to compete for the Allan Cup. They lost the 1956-57 Allan Cup Final to the Whitby Dunlops.
Awards
[
]
1948-49
1949-50
1956-57
1974-75
1975-76
1976-77
1979-80
British Columbia Senior Championship

[

]
1956-57
1974-75
1975-76
1976-77
1979-80
United States Senior Championship

[

]
See Also
[
]