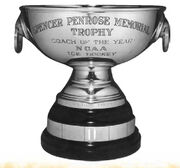 The Spencer Penrose Award is awarded yearly to the top coach in NCAA Division I men's ice hockey by the American Hockey Coaches Association.
The finalists for each year's award comprise the conference Coach of the Year winners from each Division I men's ice hockey conference, plus the coaches of the four Frozen Four teams.
Spencer Penrose was a philanthropist who helped construct the Broadmoor Hotel complex in Colorado Springs, Colorado, where the first ten college ice hockey championships were held.
References
[
]