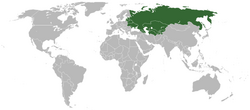 The Union of Soviet Socialist Republics (abbreviated USSR), also called the Soviet Union, was a constitutionally socialist state that existed in Eurasia from 1922 to 1991.
NHL
Players
Notable players from the Soviet Union

This entry is a stub. You can help the Ice Hockey Wiki by expanding it. Click the "edit" button to add information.