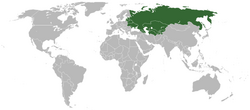 The Union of Soviet Socialist Republics (abbreviated USSR), also called the Soviet Union, was a constitutionally socialist state that existed in Eurasia from 1922 to 1991.
Country Info
Soviet Union

Info

Rinks

Players

Referees

Population in 1991

293,047,571

Indoor

--

Total

--

Male

--

Capital

Moscow

Outdoor

--

Male

--

Female

--

IIHF From

Junior

--

Country From

1922-1991

Female

--
The Soviet national ice hockey team, or USSR national ice hockey team (Russian: Сборная СССР по хоккею с шайбой), was the national hockey team of the Soviet Union.
The Soviets were the most dominant teams of all time in international play. The team won nearly every world championship and Olympic tournament between 1954 and 1991 held by the International Ice Hockey Federation (IIHF), only defeated in 1960 and 1980 by the United States; the games became known as the "Forgotten Miracle" and the Miracle on Ice, respectively.
Due to the questionable nature of the amateur status of the Soviet players, their participation in the Olympics was questioned. The controversy was about the IIHF's definition of amateurs and professionals. However, the Soviets were generally dominant in amateur and professional tournaments alike.
After 1991, the Soviet team competed as the Unified Team at the 1992 Winter Olympics and as the Commonwealth of Independent States at the 1992 World Championship. In 1993, it was replaced by national teams for Belarus, Estonia, Kazakhstan, Latvia, Lithuania, Russia and Ukraine. The IIHF recognized the Russian as the successor to the Soviet Union team and passed its ranking on Russia. The other national hockey teams were considered new and sent to compete in Pool C. The IIHF Team of the Century included four Soviet-Russian players out of a team of six. Goalie Vladislav Tretiak, defenseman Vyacheslav Fetisov and forwards Valeri Kharlamov and Sergei Makarov who played for the Soviet teams in the 1970s and the 1980s were voted on to the IIHF Centennial All-Star Team in a poll conducted by a group of 56 experts from 16 countries
The Soviet Union men's national junior ice hockey team represented the Soviet Union at the IIHF World U20 Championship (also known as the World Junior Championship).
In 1992 it was replaced by the Unified Team for one year as the Soviet Union began to break up. Starting in 1993 the team was replaced by teams representing the now-separate republics. Russia is the largest.
The team won the gold medal in: 1977, 1978, 1979, 1980, 1983, 1984, and 1989.
National Teams
League
Klass A group 1

Klass A group 2

Klass B

II Gruppa