Southeast Blades

City:
Sagkeeng (1997-07)
Winnipeg (1988-96)
League:
Manitoba Junior
Hockey League
Operated:
1988-2007
Home Arena:
Sagkeeng Multiplex (1997-07)
Notre Dame Arena (1988-96)
Colors:
Black, Red, and White
Owner(s):
Southeast Tribal Council
Franchise history
1988-1991:
Southeast Thunderbirds
1991-1992:
Southeast T-Birds
1992-2007:
Southeast Blades

The Southeast Blades were a Canadian Junior "A" ice hockey team from Sagkeeng, Manitoba. They were members of the Manitoba Junior Hockey League (MJHL), a part of the Canadian Junior Hockey League (CJHL) and Hockey Canada.
The franchise was owned by the Southeast Tribal Council, a corporation of the 9 First Nation bands of the Southeast Region of Manitoba.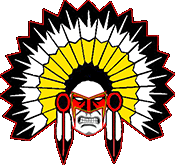 Started playing as an expansion team in the 1988-89 season, and were called the Southeast Thunderbirds. They played out of the Notre Dame Arena in Winnipeg. The name was kept for three seasons before changing to the Southeast T-Birds for a season, then becoming the Blades for the 1992-93 season.
The Blades were granted a one year leave of absence for the 1996-97 season. The team returned, moving to the Sagkeeng Multiplex.
During the summer of 2007, the Blades were sold, relocating to Beausejour, and renamed the Beausejour Blades.
Season-by-Season Record
Note: click on season for team rosters or on league for direct link to that season.
Season
League
GP
W
L
T
OTL
SOL
GF
GA
Pts
Finish
Playoffs
1988-89
MJHL
48
1
47
0
-
-
177
449
2
5th South
DNQ
1989-90
MJHL
52
20
31
1
-
-
-
-
41
4th South
Lost Div Semi
1990-91
MJHL
48
8
38
2
-
-
216
347
18
4th South
DNQ
1991-92
MJHL
48
2
46
0
-
0
106
453
4
4th South
DNQ
1992-93
MJHL
48
16
29
0
-
3
224
307
35
4th South
DNQ
1993-94
MJHL
56
20
34
1
-
1
---
---
42
4th South
Lost Div Semi
1994-95
MJHL
55
21
30
1
-
3
196
271
46
4th Addison
Lost Div Semi
1995-96
MJHL
56
5
49
2
-
0
144
404
12
5th Addison
DNQ
1996-97
Did Not Participate
1997-98
MJHL
62
20
38
2
-
2
231
300
44
5th Addison
DNQ
1998-99
MJHL
62
22
38
0
-
2
234
265
46
5th Addison
DNQ
1999-00
MJHL
64
29
26
-
-
9
282
285
67
5th Addison
DNQ
2000-01
MJHL
64
7
55
-
1
1
160
405
16
6th Addison
DNQ
2001-02
MJHL
64
23
36
-
4
1
202
286
51
5th Addison
DNQ
2002-03
MJHL
64
41
18
-
2
3
270
235
87
2nd Addison
Lost Final
2003-04
MJHL
64
12
50
0
2
-
184
389
26
5th Addison
DNQ
2004-05
MJHL
63
7
50
2
4
-
165
331
20
5th Addison
DNQ
2005-06
MJHL
63
18
34
6
5
-
198
293
47
5th Addison
DNQ
2006-07
MJHL
63
9
46
5
3
-
181
356
26
5th Addison
DNQ
Team / Franchise Records
Team Canada West
MJHL Award Winners, League Leaders, & All-Stars
MJHL Scholarship Winners
NHL Alumni
Blades Lists