Line 113:
Line 113:
 
 
 

The U18, and U20 teams have also played in the world championships. The womens team has also participated in a few world championships.

 

The U18, and U20 teams have also played in the world championships. The womens team has also participated in a few world championships.

 
+
 
+

==National Teams==

 
+
 
+

*[[Slovenia men's national junior ice hockey team]]

 
+

*[[Slovenia men's national ice hockey team]]

 
+

*[[Slovenia women's national ice hockey team]]

 
+

*[[Slovenia men's national U-18 ice hockey team]]

 
+
 
+

==Leagues==

 
+
 
+

*[[Slovenian Championship]]

 
+
 
+

*[[Slovenian Hockey League]]

 
+
 
+

*[[Mariborska Hokejska Liga]]

 

[[Category:Hockey Countries]]

 

[[Category:Hockey Countries]]

 

[[Category:Countries]]

 

[[Category:Countries]]
---
Revision as of 23:04, 4 November 2010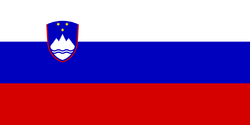 Slovenia is a country in central Europe. Its population is just over 2,000,000. The capital of Slovenia is Ljubijana. It borders Italy to the west, Croatia to the southeast, Hungary to the northeast, and Austria to the north.
Until 1991, Slovenia was a part of Yugoslavia.
Slovenia

Info

Rinks

Players

Referees

49

Population

2,054,199

Indoor

8

Total

1,434

Male

--

Capital

Ljubljana

Outdoor

2

Male

902

Female

--

IIHF Since

May 6 1992

Junior

447

Female

85
The first ice hockey game in Slovenia was played in 1929. Ilrija Hockey Club from Ljubljana formed a year earlier was the best team in Yugoslavia before the world war. The team was considered so strong that it was proclaimed the national champion of Yugoslavia in both 1937 and 1938 without playing a single game.
[1][2]After World War II, Slovenian teams still ruled the Yugoslav ice hockey. Acroni Jesenice was the champion of Yugoslavia for years in a row from 1957 to 1971 and players from Slovenia made up the majority of the Yugoslav national team.
After Yugoslavia disintegrated, the Ice Hockey Federation of Slovenia was founded in 1991 and the country became a member of the International Ice Hockey Federation a year later. Slovenia held its first national championship, won by Acroni Jesenice, in 1992, and the same year it played its first international game, losing to Austria.
In 1993, Slovenia competed at the World Championships for the first time as an independent nation. They finished 4th in Pool C. The country won Division I (Group B) in 2001,2004,2007,and 2010 and gained promotion to Pool A, where it played again in 2002,2003 ,2005,2006,2008,and 2009.
The U18, and U20 teams have also played in the world championships. The womens team has also participated in a few world championships.
National Teams
Leagues