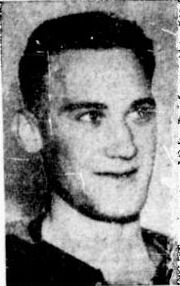 Norm "Skip" Mackay (born January 31, 1934, in Vancouver, British Columbia) is a retired Canadian right winger who played pro hockey from 1954 to 1959.
He played junior hockey for the Prince Albert Mintos from 1952 to 1954. In 1952-53, his rookie season, Mackay set a record for most goals (60) and most points (100). The next season he againled in goals (57) and points (78).
Mackay turned pro in 1954 with the Vancouver Canucks of the Western Hockey League. In 1955-56 he played for the Johnstown Jets of the International Hockey League. Mackay finished off his career in the Eastern Hockey League with the Toledo Mercurys and the Philadelphia Ramblers.
He retired in 1959 to take a coaching job in Vienna, Austria.
Mackay was also an excellent lacrosse player and played this sport at its highest level both before and after his hockey retirement.
Community content is available under
CC-BY-SA
unless otherwise noted.