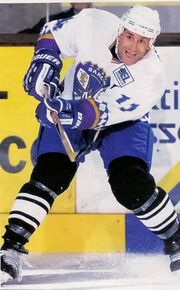 Simon Wheeldon (born August 30, 1966 in Vancouver, British Columbia) is a former ice hockey player. He played for the New York Rangers and Winnipeg Jets.
Centre Simon Wheeldon was a big time scorer as a junior in the Western Hockey League, but he never signed a contract with the team that drafted him, the Edmonton Oilers. They drafted him 229th overall in the 1984 NHL Entry Draft. When he finished his Junior caeer, he became a free agent and signed a deal with the New York Rangers after then-General Manager Phil Esposito sought him out.
Wheeldon was an instant success as a professional scoring 109 points in his first season which was split between the American and International Hockey Leagues. During his second year he was in the midst of an All-Star season in the IHL when he was summoned by the Rangers.
In five games in New York the skilled forward was limited to just one assist. The following season Wheeldon was again a minor league All-Star and again played a handful of games with the big club. This time he played six games and he once again chipped in a singe assist. After spending all of the 1989-90 campaign in the minors, the Rangers traded Wheeldon away in the summer of 1990.
Now property of the Winnipeg Jets, Wheeldon still wasn't granted a good opportunity to prove his worth at the NHL level. The Jets put him into just four games and he was unable to score any points for his new club.
Despite a trade to the Washington Capitals in the off-season, the 1991-92 season was spent entirely in the minors and Wheeldon, who was recently married, felt his career was at a crossroads at season's end. Wary of the prospect of being a journeyman minor leaguer in North America with a new wife Wheeldon elected to give playing in Europe a try.
Wheeldon signed on to play in Austria for the 1992-93 campaign for what he thought would be one year. Though culture-shock and the language barrier proved troublesome the transition on the ice was seamless. Wheeldon settled in and began to have a family in his new home while his career flourished with VEU Feldkirch. Wheeldon twice led the league in goals and points and also played in the 1998 Olympics, representing his adopted homeland.
In 1999 Wheeldon joined the Munich Barons where he played the next few years and was back in the Olympics in 2002.
Community content is available under
CC-BY-SA
unless otherwise noted.