"Vert et Or" (Green & Gold) is the name of the sports teams of the University of Sherbrooke, located in Sherbrooke, Quebec. The Vert et Or are members of the Reseau du sport etudiant du Quebec (RSEQ) and Canadian Interuniversity Sport (CIS). The Vert et Or folded their hockey program after the 1973-74 season. The RSEQ does not operate a hockey league, and has not done since 1987.
History
The Vert et Or played in the Ottawa-St. Lawrence Conference from 1962-63 through the 1970-71 season. In 1971-72 they joined the Quebec Universities Athletic Association (QUAA) once the Ontario and Quebec conferences were re-organized along provincial lines. They remained there until the end of the 1973-74 season.
Season-by-Season Records
Click on the links in the "Year/Comp." column to go to the page for that season.
OSLC Seasons 1962-63 to 1970-71
QUAA Seasons 1971-72 to 1973-74
Note: All seasons in a one division format.
Commemorations
University Cup
Championships
OSLC: 1963
Pictures
in progress
Alternate Logos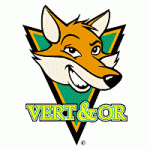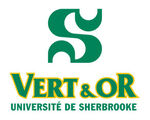 Links
West Division
East Division
Formerly Participating Universities - Quebec
Also see