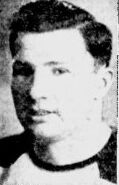 Edwin "Shep" Mayer (September 11, 1923 – February 7, 2005) was a professional ice hockey right winger who played twelve games in the National Hockey League. Born in Sturgeon Falls, Ontario, he played with the Toronto Maple Leafs.
He played junior hockey for the Guelph Biltmores in 1941-42. In 1942-43, he played for the Toronto Maple Leafs, partly because of the wartime shortage of hockey players. He scored a goal and 2 assists in 12 games.
The balance of his career was spent with senior amateur teams in Canada. He retired in 1951.
References
[
]