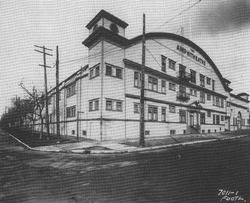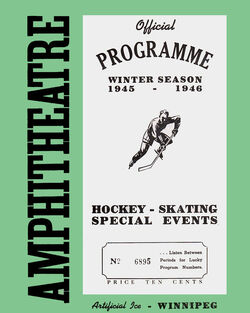 Shea's Amphitheatre, also known as the Winnipeg Amphitheatre, was an indoor arena located in Winnipeg, Manitoba, which seated 5,000 spectators.
The amphitheatre was situated on the north-east corner of Whitehall Avenue and Colony Street, some distance west of Osborne Street. Whitehall Avenue no longer exists today. It was an east-west street connecting Colony with Osborne and running parallel to Mostyn Place. At the north end of the amphitheatre was another east-west street that no longer exists: Brydges Avenue. North of Brydges and south of Broadway was Shea's Brewery.
Constructed in 1909, the Amphitheatre was for a time the only artificial ice surface between Toronto and Vancouver. It hosted the Memorial Cup tournament numerous times, the last of which was in 1953. For a number of years it was also the venue of the Shrine Circus. The Amphitheatre was made redundant by the construction of the Winnipeg Arena in 1955, and was demolished that summer after hosting its last event on May 31. The artificial ice plant was purchased by the owners of the Winnipeg Warriors and relocated to Winnipeg's Olympic Rink. The headquarters of The Great-West Life Assurance Company currently occupy the site.
Community content is available under
CC-BY-SA
unless otherwise noted.