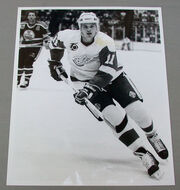 Shawn Burr (born on July 1, 1966 in Sarnia, Ontario, Canada) is a retired Canadian ice hockey centreman. Burr played in the NHL for parts of 16 seasons from 1984-2000.
Burr was drafted 7th overall by the Detroit Red Wings in the 1984 NHL Entry Draft. Burr played 878 career NHL games, scoring 181 goals and 259 assists for 440 points. He also garnered 1,069 penalty minutes.
In 2007, Burr was elected president of the Detroit Red Wings Alumni Association and is active in its efforts to raise money for children's charities in Metro Detroit.
In Grosse Pointe Woods, Michigan, a suburb of Detroit, Telly's Place, a local restaurant & bar, had the Shawn 'Burr'ger on its menu for many years.