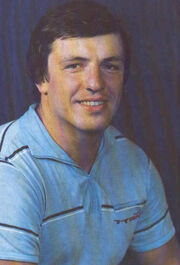 Sergei Starikov(born December 4 1958 in Chelyabinsk, USSR) is a Russian ice hockey coach, who competed as a defenceman for the Soviet national team.
Sergei Starikov won 9 national titles in the Soviet Union. Participating in 3 Olympic Tournaments, Sergei won 2 Gold and 1 Silver medal.
Starikov was picked in the 8th round, 152nd overall, by the New Jersey Devils in the 1989 NHL Entry Draft.
He appeared on the cover of Sports Illustrated after becoming one of the first Soviet players to wear an NHL uniform when he joined the New Jersey Devils in 1989 along with his friend and defensive partner from the Soviet team, Viacheslav Fetisov. He went on to play in just 16 games for the Devils, scoring 1 assist.
He lives in New Jersey and currently is an instructor at ProSkate NJ.
External links