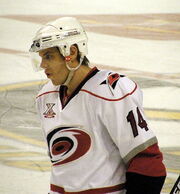 Sergei Samsonov (in russian Сергей Самсонов) (b. October 27, 1978 near Moscow, Russia) is a professional left winger who is a free agent.
Drafted 8th overall by the Boston Bruins in the 1997 NHL Entry Draft, he won the Calder Memorial Trophy in his rookie season, after scoring 22 times and cumulating a total of 47 points. He played for the Bruins until March 9th 2006, when he was traded to the Edmonton Oilers for Yan Stastny and Marty Reasoner. He helped the Oilers reach the Stanley Cup finals that year, failing to win; he signed as a free agent with Montreal in the 2006 summer.
His stay in Montreal proved to be a disaster, as Samsonov failed to retrieve the rhythm he had in Boston and ended the season with a meager 26 points in 63 games; Habs coach Guy Carbonneau regularly scratched Samsonov off the lineup and the Russian winger never managed to do anything good, even though he was given good line mates such as Alexei Kovalev. In February 2007, Samsonov was placed on the waivers, but found no interested team. The Habs traded him to the Chicago Blackhawks in June of the same year for Jassen Cullimore and Tony Salmelainen. Unable to do much better in the Windy City, Sansonov was assigned to the American Hockey League's Rockford IceHogs after clearing waivers. On January 8th 2008, Samsonov was claimed off re-entry waivers by the Carolina Hurricanes.
In 2010-11. he joined the Florida Panthers.