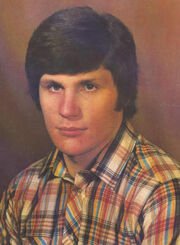 Sergei Makarov (in Russian: Сергей Михайлович Макаров) (b. June 9th 1958 in Chelyabinsk, U.S.S.R.) was a professional right winger who played primarily in the Soviet League with the CSKA Moscow and in the National Hockey League with the Calgary Flames, San Jose Sharks and Dallas Stars.
One of the most gifted Russian players ever, Makarov was part of the feared KLM Line along with Vladimir Krutov and Igor Larionov, a line that was the main weapon of the Soviet National Team through the 80's, leading them to two gold Olympic medals 1984 in Sarajevo and 1988 in Calgary, as well as a silver medal in 1980, in addition to seven World titles and one Canada Cup.
In 1990, his country allowed him to play in the NHL, seven years after the Calgary Flames had drafted him (1983 NHL Entry Draft). He was awarded the Calder Memorial Trophy following his first NHL season after posting 86 points in 80 games; this reward led to the creation of a new rule, nicknamed the Makarov Rule, stating that players who are older than 26 on September 15 of their rookie season can't win the Calder. Sergei was 31 when he won it. He played three more seasons before heading for San Jose, playing two seasons with the Sharks. He would then play 6 games in the Nationalliga A with HC Fribourg-Gottéron and four with the Dallas Stars in 1996-97 before retiring.
Makarov was inducted to the IIHF Hockey Hall of Fame. He was the top scorer of the Soviet League from 1980 to 1982, and then from 1984 to 1989 inclusively; he was named USSR Player of the Year in 1980, 1985 and 1989.
Community content is available under
CC-BY-SA
unless otherwise noted.