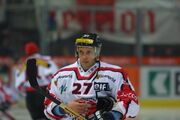 Serge Poudrier (born April 22, 1966, in Thetford Mines, Quebec) is a retired Canadian - French defenceman. He is the assistant coach of the Baie-Comeau Drakkar of the Quebec Major Junior Hockey League (QMJHL).
He played major junior with the Trois-Rivières Draveurs of the QMJHL from 1983 to 1986. Then he moved to France and played with the Anglet Hormadi Élite of the French Division 1 until 1989.
In 1989 he moved to the Girondins de Bordeaux of the Ligue Magnus. Poudrier signed with the Dragons de Rouen in 1991 and helped the team win three straight championships (1993-1995).
After losing the 1996 finals, Poudrier moved to Germany and played one season with the Augsburger Panther and one with the Hannover Scorpions.
In 1998 he joined HC Lausanne and played for them until 2004. In that year Poudrier returned to his native town and played for Thetford Mines Prolab until his retirement in 2006.
Poudrier took out French citizenship and played for France in: