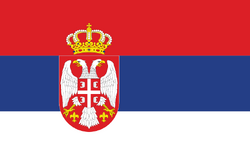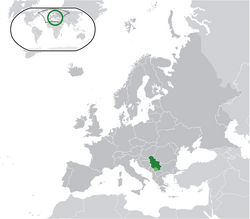 Serbia is a country in eastern Europe. It has a population of about 7,370,000. The capital is Belgrade. It borders Hungary to the north, Romania and Bulgaria to the east, Macedonia to the south, Croatia, Bosnia and Herzegovina and Montenegro to the south, and Albania to the west.
It was part of Yugoslavia until the breakup of the country in the 1990's.
Serbia

Info

Rinks

Players

Referees

23


Population

7,334,935

Indoor

3

Total

563

Male

--

Capital

Belgrade

Outdoor

1

Male

191

Female

--

IIHF Since

January 1 1939

Junior

369

Female

3

History
The first hockey team in Yugoslavia was formed in Zagreb, Croatia, in 1906. The first official hockey games also took place in Zagreb ten years later. The Yugoslav Ice Hockey Federation was founded in 1930. The Yugoslavian national team played its first game in 1934 losing 0-1 to Romania. In 1939, Yugoslavia held its first national championship, and joined the International Ice Hockey Federation.
Tournaments
Former Yugoslavia played in the Olympics five times. In Grenoble 1968 it finished 9th. At World Championships, it competed twice in Pool A: in 1939 and 1966. Since 1995, Serbia and Montenegro's men's and junior teams have played in pools C and D (Divisions II and III) at the World Championships. Since the split of Serbia and Montenegro Serbia has continued to participate in IIHF tournaments in Men's Division I U20 Division II and U18 Division II.They won the division two world championship in 2009. It was held in Novi Sad, Serbia. Montenegro has not participated in any IIHF tournaments since the countries split. Before the countries split all of the hockey activities took place on the side of present Serbia there were and there are still no hockey activities in Montenegro.
National Teams
[
]
League
[
]
See Also
[
]