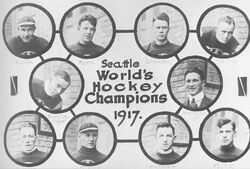 The Seattle Metropolitans were a professional ice hockey team based in Seattle, Washington which played in the Pacific Coast Hockey Association from 1915 to 1924. They won the Stanley Cup in 1917, becoming the first American team to do so. They played their home games at the Seattle Ice Arena.
History
The United States first Stanley Cup
Seattle won the 1917 championship by defeating the National Hockey Association's Montreal Canadiens three games to one by a combined score of 19 to 3. Fourteen of Seattle's goals were scored by Bernie Morris (including six in game four alone). Games one and three were played under PCHA rules, i.e., seven players per side, forward passing in the neutral zone, and no substitution for penalized players. Games two and four were played under NHA rules, i.e., six players per side, no forward passing, substitutions allowed.
Life in the PCHA
After winning the 1917 Stanley Cup the Metropolitans also played in the Stanley Cup finals in 1919 (which were cancelled due to the flu pandemic after five games with the series tied 2-2-1) and 1920, when they lost to the Ottawa Senators.
In the 1919 cancelled stanley cup finals two brilliant performances by Seattle players were recorded, one by Hap Holmes keeping the last played game scoreless resulting in the referee declaring a tie and that of Frank Foyston scoring 8 goals in the first 4 games of the series.
The 1920 Series was subsequently relocated from the poor natural ice conditions at Ottawa to the artificial ice surface at Toronto's Mutual Street Arena.
The PCHA consisted of four teams in the 1915-16 and 1916-17 seasons, while operating with only three teams from 1917 until it folded in 1924. From 1922-23 games against the Western Canada Hockey League (WCHL) counted in the PCHA standings. This allowed Seattle to have a losing record yet still win the league regular season championship in 1924. In 1924 The Seattle team folded and the PCHA ceased to operate. In the last season the team had an average of 1000 fans per game in attendance. The arena owner's did not renew the team's lease. . The remaining teams of Vancouver and Victoria joined the WCHL for the 1925 season.
Season-by-season record
Note: GP = Games played, W = Wins, L = Losses, T = Ties, Pts = Points, GF = Goals for, GA = Goals against
| | | | | | | | | | | |
| --- | --- | --- | --- | --- | --- | --- | --- | --- | --- | --- |
| PCHA season | GP | W | L | T | PTS | GF | GA | PIM | Finish | Playoffs |
| 1915–16 | 18 | 9 | 9 | 0 | 18 | 68 | 67 | -- | 3rd in PCHA | N/A |
| 1916–17 | 24 | 16 | 8 | 0 | 32 | 125 | 80 | -- | 1st in PCHA | Won Stanley Cup |
| 1917–18 | 18 | 11 | 7 | 0 | 22 | 67 | 65 | -- | 1st in PCHA | Lost PCHA final |
| 1918–19 | 20 | 11 | 9 | 0 | 22 | 66 | 46 | -- | 2nd in PCHA | No decision in Stanley Cup final |
| 1919–20 | 22 | 12 | 10 | 0 | 24 | 59 | 55 | -- | 1st in PCHA | Lost Stanley Cup final |
| 1920–21 | 24 | 12 | 11 | 1 | 25 | 77 | 68 | -- | 2nd in PCHA | N/A |
| 1921–22 | 24 | 12 | 11 | 1 | 25 | 65 | 64 | -- | 1st in PCHA | Lost PCHA final |
| 1922–23 | 30 | 15 | 15 | 0 | 30 | 100 | 106 | -- | 3rd in PCHA | N/A |
| 1923–24 | 30 | 14 | 16 | 0 | 28 | 84 | 99 | -- | 1st in PCHA | N/A |
Hall of famers
External links