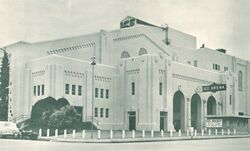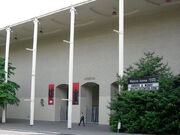 Seattle Civic Ice Arena, previously known as the Exposition Building and the Seattle Center Arena, is a performing arts venue located at the corner of Mercer Street & Fourth Avenue North in Seattle, Washington. It is now known as the Mercer Arena. It was built in 1912 next door to the Seattle Civic Auditorium (where the Seattle Opera House is now located), as part of the $1 million Seattle Center. The venue predates Seattle Center Coliseum by about 35 years.
Origins and usage as a venue (1928-2003)
[
]
Initially conceived as an ice-arena, the facility eventually became a large multi-purpose venue. It was nicknamed "the House of Suds" because of the large underwriting contribution of local tavern owner, James Osborne. The name changed to Seattle Center Arena after the 1962 World's Fair. In 1995 the name changed again, to the Mercer Arena, due to its location on Mercer Street. In general, the Arena was home to the Seattle Totems from 1962-75, the first home of the Seattle Thunderbirds from 1985-94 (with Seattle Center Coliseum) and 1994-95 (by itself), the Seattle SeaDogs 1995, the ABL's Seattle Reign from 1996-98, and a temporary venue for Seattle Opera from 2000-03 before sitting dormant.
Until recently, its large, flexible spaces allowed an average of 183 events each year. From 1962 until 1975 it was first home to the Seattle Totems of the old professional WHL and then the Seattle Thunderbirds of the modern Western Hockey League. From 1996 to 1998, it was the home of the Seattle Reign, the city's first professional women's basketball franchise, a part of the American Basketball League. From 2000 to 2003, it was used as a temporary venue for the Seattle Opera and Pacific Northwest Ballet during construction of McCaw Hall, the new opera house.
For concerts, it has a maximum capacity of 8,000 (or 5,000 in seats), an ideal niche between nightclubs and theaters, the largest of which seat a few thousand, and the much larger KeyArena, which seats more than 16,000.