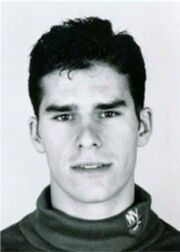 Scott Lachance (b. October 22nd 1972 in Charlottesville, Virginia, United States) is a professional defenceman who plays in the National Hockey League for the New Jersey Devils.
A top flight prospect at the time he played for Boston University, Lachance was selected fourth overall in the 1991 NHL Entry Draft by the New York Islanders. He made his NHL debuts the following season, splitting time between the Isles and the American National Team.
Lachance would be a valuable member of the Islanders, his smooth skating and sound positional play being an asset for the Long Island-based team. When in the late 1990's the team began reconfiguring its roster to rebuild, Lachance was dealt to the Montreal Canadiens, where he would stay for about a season and a half before leaving via free agency in 2000 to join the Vancouver Canucks. Two seasons later, he joined the Columbus Blue Jackets again as a free agent.
External Links
[
]