The Schreiber Diesels were
a Junior "A" ice hockey team from Schreiber, Ontario, Canada. They are a part of the Superior International Junior Hockey League.
An Intermediate team that played in the North Shore Intermediate Hockey League
History
Junior Team
The Schreiber Diesels are coached by Bobby Spadoni, a life long resident of the area. The Diesels were formed in September 2005 and quickly became a competitive team within the league.
The Diesels won the SIJHL championship against the three-time-defending Fort William North Stars in 2007 after forcing the series into a seventh game. The Diesels took home the Bill Salonen Cup for winning the league, and had earned a spot in the 2007 Dudley Hewitt Cup Tournament in Iroquois Falls, Ontario.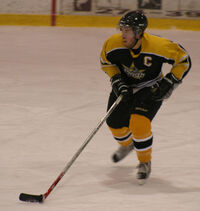 The Diesels did well at the Dudley Hewitt Cup, and even made to the finals. The Diesels were crushed 10-0 by the eventual 2007 Royal Bank Cup champions, the Aurora Tigers at the Central Canadian Championship.
2007-08 season
On December 17, 2007, the SIJHL announced the cessation of the Schreiber Diesel's season. The team cited lack of crowd support this season, but claimed there were other factors. [1] The Diesels were in their third season of operation and were the defending league champions. Soon after, on December 21, it was revealed that the Diesels had been bought by a group of local fans in an effort to keep hockey in Schreiber alive. [2]
Season-by-Season results
Junior Team
| | | | | | | | | | | |
| --- | --- | --- | --- | --- | --- | --- | --- | --- | --- | --- |
| Season | GP | W | L | T | OTL | GF | GA | P | Results | Playoffs |
| 2005-06 | 52 | 20 | 27 | 3 | 2 | 231 | 300 | 45 | 3rd SIJHL | Lost Semi-final |
| 2006-07 | 50 | 33 | 11 | 2 | 4 | 351 | 204 | 73 | 2nd SIJHL | Won League |
| 2007-08 | 50 | 25 | 22 | 3 | 0 | 184 | 181 | 53 | 4th SIJHL | Lost Semi-final |
| 2008-09 | 50 | 26 | 21 | - | 3 | 213 | 220 | 55 | 4th SIJHL | Lost Semi-final |
Senior Team
External links