Scandinavium

Scandinavium viewed from south

Location
Valhallagatan 1
Gothenburg, Sweden
Built
May, 1969 — May, 1971
Opened
May 18, 1971
Renovated
2001, 2006
Expanded
1990
Owner
Idrotts- och kulturcentrum Scandinavium i Göteborg AB
Operator
Got Event
Construction cost
31 million krona
Architect
Poul Hultberg
Tenants
Frölunda HC (SEL) (1971-present)
Capacity
Hockey: 12,044
Concert: 14,000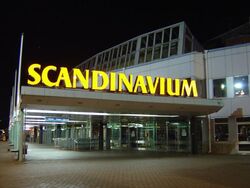 Scandinavium is the primary indoor sports and event arena in Gothenburg, Sweden. Construction on Scandinavium began in 1969 after decades of setbacks, the arena was built in time for the 350th year anniversary celebration of the City of Gothenburg and was inaugurated on May 18, 1971.
Scandinavium has been selected as a championship arena at least fifty times, hosting events such as World Championships in ice hockey, figure skating, and swimming, European championships, Davis Cup finals, and in 1985 the Eurovision Song Contest. Scandinavium is the home arena for Frölunda HC of Elitserien, and venue for the annual Göteborg Horse Show.