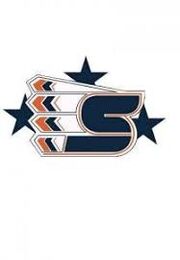 The Salteaux 3 Stars were a men's senior hockey team.
The team was started with the 2006-07 season as a member of the Treaty Six Hockey League. The team was based out of the Saulteaux First Nation Arena on the Saulteaux First Nation, Saskatchewan.
They played in the Saskatchewan Prairie Senior Hockey League for the 2010-11 and 2011-12 seasons. Due to problems with the arena most of their games were played at the Glaslyn Skating Rink in Glaslyn, Saskatchewan. The team was suspended by the league on January 25, 2012 for the balance of the regular season and for the playoffs for using 2 ineligible players.  The team was banned from the league when they didn't pay the fine imposed by the league.
The team had been accepted into the Beaver Lakes Hockey League for the 2017-18 season; but, would drop out prior to the start of play.
| Season | League | GP | W | L | T | OL | Pts | GF | GA | Finish | Playoffs |
| --- | --- | --- | --- | --- | --- | --- | --- | --- | --- | --- | --- |
| 2006-07 | TSHL | 11 | 3 | 8 | 0 | - | 6 | 83 | 114 | 5th | ? |
| 2010-11 | SPHL | 9 | 1 | 8 | - | 0 | 2 | 29 | 102 | 4th | Lost Semifinals |
| 2011-12 | SPHL | 17 | 4 | 12 | - | 1 | 9 | 82 | 133 | 7th | N/A |