The Saskatoon Blades are a junior ice hockey team in the Eastern Division of the Western Hockey League. They are based in Saskatoon, Saskatchewan, playing at the 15,195 seat Credit Union Centre.
History
The Saskatoon Blades were originally founded in 1964 as a team in the Saskatchewan Junior Hockey League and transferred leagues in 1966–67 with the foundation of the Western Hockey League. They are the only team remaining in the league from the WHL's foundation still in their original city (the Regina Pats are also still around, but they dropped out of the WHL for a few seasons early on to go back to the SJHL). The Blades spent many seasons at the old Saskatoon Arena where they built up a strong fanbase and developed many top players. In 1988, they moved to what was then known as Saskatchewan Place (now Credit Union Centre) and hosted the Memorial Cup tournament in May, 1989, where they finished the round robin with a 5–4 victory over the Swift Current Broncos who had a 14 game undefeated streak, which consisted of sweeping through the WHL playoffs and winning their 1st two round robin games. However, the Blades lost in overtime in the Memorial Cup Final to the Broncos. They also lost in the WHL league finals in 1992 and 1994 to the Kamloops Blazers in seven games. The Blades have never won the Ed Chynoweth Cup, and currently have the longest championship drought in the Canadian Hockey League.
The Blades are currently owned by the Priestner Family. They have been a huge success at the gate. Throughout their existence, the team has had a fierce rivalry with both the Regina Pats and the Prince Albert Raiders. As many of the players are still in their mid-teens, Marion M. Graham Collegiate plays host to many of the players, due to the short distance.
In the 2008–09 Season, the Saskatoon Blades made history by tying a WHL record for most road wins in a single season (28) with the 1999–00 Calgary Hitmen. In that season, the Blades went on to win their first East Division Championship since 1994.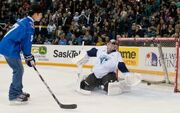 NHL alumni
Bernie Federko is the only former Blade in the Hockey Hall of Fame.
Gerry Hogue

Terry Johnson
Retired numbers
Coaches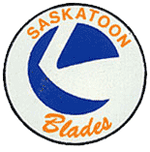 *interm (regular head coach fired, sick or suspended)
Season-by-season record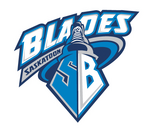 | | | | | | | | | | | |
| --- | --- | --- | --- | --- | --- | --- | --- | --- | --- | --- |
| Season | GP | W | L | T | OTL | GF | GA | Points | Finish | Playoffs |
| 1966–67 | 56 | 25 | 24 | 7 | – | 288 | 271 | 57 | 5th Overall | Lost quarter-final |
| 1967–68 | 60 | 20 | 31 | 9 | – | 260 | 362 | 49 | 7th Overall | Lost quarter-final |
| 1968–69 | 60 | 24 | 35 | 1 | – | 195 | 271 | 49 | 3rd West | Lost quarter-final |
| 1969–70 | 60 | 18 | 41 | 1 | – | 202 | 282 | 37 | 4th West | Lost quarter-final |
| 1970–71 | 66 | 29 | 36 | 1 | – | 295 | 299 | 59 | 3rd West | Lost quarter-final |
| 1971–72 | 68 | 37 | 28 | 3 | – | 312 | 258 | 77 | 2nd East | Lost quarter-final |
| 1972–73 | 68 | 46 | 11 | 11 | – | 323 | 184 | 103 | 1st East | Lost final |
| 1973–74 | 68 | 30 | 29 | 9 | – | 283 | 272 | 69 | 4th East | Lost quarter-final |
| 1974–75 | 70 | 38 | 22 | 10 | – | 344 | 244 | 86 | 1st East | Lost final |
| 1975–76 | 72 | 43 | 19 | 10 | – | 390 | 269 | 96 | 1st East | Lost final |
| 1976–77 | 72 | 30 | 30 | 12 | – | 317 | 290 | 72 | 2nd East | Lost preliminary round |
| 1977–78 | 72 | 20 | 50 | 2 | – | 340 | 460 | 42 | 4th East | Out of playoffs |
| 1978–79 | 72 | 26 | 32 | 14 | – | 385 | 398 | 66 | 2nd East | Lost East Division final |
| 1979–80 | 72 | 27 | 40 | 5 | – | 331 | 382 | 59 | 7th East | Out of playoffs |
| 1980–81 | 72 | 22 | 47 | 3 | – | 297 | 427 | 47 | 8th East | Out of playoffs |
| 1981–82 | 72 | 44 | 26 | 2 | – | 450 | 343 | 90 | 3rd East | Lost East Division quarter-final |
| 1982–83 | 72 | 52 | 19 | 1 | – | 467 | 303 | 105 | 1st East | Lost East Division semi-final |
| 1983–84 | 72 | 36 | 36 | 0 | – | 347 | 350 | 72 | 7th East | Out of playoffs |
| 1984–85 | 72 | 29 | 41 | 2 | – | 309 | 378 | 60 | 6th East | Lost East Division quarter-final |
| 1985–86 | 72 | 38 | 28 | 6 | – | 381 | 360 | 81 | 4th East | Lost East Division semi-final |
| 1986–87 | 72 | 44 | 26 | 2 | – | 369 | 282 | 90 | 2nd East | Lost East Division final |
| 1987–88 | 72 | 47 | 22 | 3 | – | 381 | 294 | 97 | 1st East | Lost East Division final |
| 1988–89 | 72 | 42 | 28 | 2 | – | 366 | 335 | 86 | 2nd East | Lost East Division final; Lost Memorial Cup Final |
| 1989–90 | 72 | 33 | 34 | 5 | – | 325 | 354 | 71 | 4th East | Lost East Division semi-final |
| 1990–91 | 72 | 29 | 41 | 2 | – | 309 | 363 | 60 | 7th East | Out of playoffs |
| 1991–92 | 72 | 38 | 29 | 5 | – | 315 | 260 | 81 | 3rd East | Lost WHL final |
| 1992–93 | 72 | 42 | 27 | 3 | – | 311 | 236 | 87 | 3rd East | Lost East Division semi-final |
| 1993–94 | 72 | 49 | 22 | 1 | – | 326 | 229 | 99 | 1st East | Lost WHL final |
| 1994–95 | 72 | 41 | 23 | 8 | – | 324 | 254 | 90 | 3rd East | Lost East Division semi-final |
| 1995–96 | 72 | 29 | 42 | 1 | – | 314 | 351 | 59 | 4th East | Lost Eastern Conference quarter-final |
| 1996–97 | 72 | 18 | 48 | 6 | – | 227 | 344 | 42 | 6th East | Out of playoffs |
| 1997–98 | 72 | 25 | 39 | 8 | – | 263 | 327 | 58 | 4th East | Lost Eastern Conference quarter-final |
| 1998–99 | 72 | 16 | 49 | 7 | – | 184 | 291 | 39 | 6th East | Out of playoffs |
| 1999–00 | 72 | 34 | 27 | 8 | 3 | 216 | 223 | 79 | 2nd East | Lost Eastern Conference semi-final |
| 2000–01 | 72 | 19 | 43 | 5 | 5 | 193 | 265 | 48 | 5th East | Out of playoffs |
| 2001–02 | 72 | 27 | 37 | 5 | 3 | 216 | 257 | 62 | 4th East | Lost Eastern Conference quarter-final |
| 2002–03 | 72 | 40 | 27 | 5 | 0 | 234 | 205 | 85 | 3rd East | Lost Eastern Conference quarter-final |
| 2003–04 | 72 | 7 | 52 | 11 | 2 | 140 | 279 | 27 | 5th East | Out of playoffs |
| 2004–05 | 72 | 37 | 23 | 6 | 6 | 234 | 215 | 86 | 2nd East | Lost Eastern Conference Quarter Finals |
| Season | GP | W | L | OTL | SOL | GF | GA | Points | Finish | Playoffs |
| 2005–06 | 72 | 41 | 25 | 2 | 4 | 232 | 217 | 88 | 2nd East | Lost Eastern Conference Semi Finals |
| 2006–07 | 72 | 27 | 41 | 2 | 2 | 174 | 231 | 58 | 6th East | Out of playoffs |
| 2007–08 | 72 | 29 | 34 | 3 | 6 | 182 | 229 | 67 | 5th East | Out of playoffs |
| 2008–09 | 72 | 49 | 18 | 3 | 2 | 283 | 195 | 103 | 1st East | Lost Eastern Conference Quarter Finals |
| 2009–10 | 72 | 46 | 19 | 1 | 3 | 258 | 227 | 99 | 2nd East | Lost Eastern Conference Semi Finals |
| 2010–11 | 72 | 56 | 13 | 1 | 2 | 310 | 213 | 115 | 1st East | Lost Eastern Conference semi-final |
| 2011–12 | 72 | 40 | 29 | 1 | 2 | 268 | 250 | 83 | 2nd East | Lost Eastern Conference quarter-final |
| 2012–13 | 72 | 44 | 22 | 2 | 4 | 280 | 221 | 94 | 1st East | Lost Eastern Conference quarter-final; Lost Memorial Cup tie-breaker game |
| 2013–14 | 72 | 16 | 51 | 2 | 3 | 207 | 317 | 37 | 6th East | Out of playoffs |
| 2014–15 | 72 | 19 | 49 | 2 | 2 | 195 | 308 | 42 | 6th East | Out of playoffs |
| 2015–16 | 72 | 26 | 42 | 4 | 0 | 219 | 318 | 56 | 6th East | Out of playoffs |
| 2016–17 | 72 | 28 | 35 | 7 | 2 | 190 | 248 | 65 | 5th East | Out of playoffs |
| 2017–18 | 72 | 35 | 33 | 3 | 1 | 237 | 276 | 74 | 6th East | Out of playoffs |
| 2018–19 | 68 | 45 | 15 | 8 | 0 | 259 | 190 | 98 | 2nd East | Lost Eastern Conference semi-finals |
| 2019–20 | 63 | 34 | 24 | 2 | 3 | 211 | 197 | 73 | 4th East | Playoffs cancelled |
| 2020-21 | 24 | 16 | 5 | 2 | 1 | 80 | 62 | 35 | 3rd Hub | Playoffs cancelled |
Team records
Team records for a single season

| Statistic | Total | Season |
| --- | --- | --- |
| Most points | 115 | 2010-11 |
| Most wins | 56 | 2010-11 |
| Most road wins (Tied WHL record) | 28 | 2008–09 |
| Most home wins | 32 | 2010-11 |
| Most goals for | 461 | 1982–83 |
| Least goals for | 140 | 2003–04 |
| Least goals against | 184 | 1972–73 |
| Most goals against | 460 | 1977–78 |
References
External links