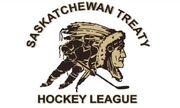 The Saskatchewan Treaty Hockey League is a men's senior hockey league located in Saskatchewan, Canada. The league was established on September 25, 2020. The league is intended to have indigenous teams from across the province form its' membership. [1] The league will be the first league sanctioned by the Saskatchewan Hockey Association to attract indigenous teams from all regions of the province. With the issues created by the COVID-19 pandemic the league is still hoping to get going for the 2020-21 season with at least ten teams making up two divisions.
On October 27th the league announced the line-up of 14 teams for its first season.[2]
Around February 11, 2021 the league announced that the league would try to start in the fall of 2021 due to the uncertainty caused by restrictions and circumstances caused by the COVID-19 pandemic.[3]