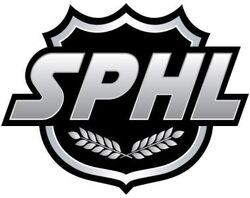 The Saskatchewan Prairie Senior Hockey League was founded in the summer of 2010 and started play for the 2010-11 season.  The league states its goal is to create, promote and maintain a "working man's league" and is dedicated to providing quality hockey in small town Saskatchewan.
The Perdue Pirates were force to go on hiatus due to a fire destroying their home arena on May 23, 2015.[1] The team has sat out the 2015-16, 2016-17, and 2017-18 season. The community is hoping the arena will be ready for the fall of 2018.
The Cut Knife Colts folded after the 2016-17 season.
The Hafford Hawks withdrew to join the Fort Carlton Hockey League for the 2018-19 season
Member Teams
Seasons/Champions
Timeline of teams
References