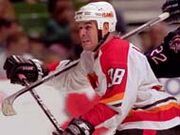 Sasha "The Basha, Pitbull" Lakovic (September 7, 1971 – April 25, 2017) in Vancouver, British Columbia) was a Canadian professional ice hockey player who played for 17 different professional teams during his career. Lakovic also played for four roller hockey teams in the mid 1990s.
Lakovic, nicknamed the "Pit Bull" for his aggressiveness, turned pro in 1992–93, playing for three separate Colonial Hockey League teams, as well as the American Hockey League's Binghamton Rangers. After bouncing around the ECHL, Central Hockey League, International Hockey League and AHL for a few more seasons, Lakovic cracked the lineup of the National Hockey League's Calgary Flames in 1996–97. Dealt to the New Jersey Devils a year later, Lakovic would play only 37 NHL games before finishing his career with stops in the West Coast Hockey League, and finally the Ligue Nord-Américaine de Hockey before retiring following the 2004–05 season.
Lakovic became known as an enforcer, registering 397 penalty minutes in his first pro season. He peaked at 416 penalty minutes in just 49 games in 1996–97 as a member of the IHL's Las Vegas Thunder.
Lakovic gained widespread attention on November 23, 1996 when playing in his first, and only, Battle of Alberta game between the Flames and the Edmonton Oilers. Late in the game, played at Northlands Coliseum in Edmonton, a drunken fan reached over the glass, dumping his drink on the head of Flames assistant coach Guy Lapointe. Lakovic immediately jumped over the glass attempting to get at the fan. Held back from climbing over by his teammates, Lakovic was suspended two games for the incident.
On October 12, 2016, Lakovic publicly announced that he was diagnosed with inoperable brain cancer and was given only 3 months to live.
Lakovic died on April 25, 2017 at the age of 45. He is survived by his wife, four children, and his brother Greg.
Community content is available under
CC-BY-SA
unless otherwise noted.