Sarah Vaillancourt
Position
Forward
Shoots
Right
Height
Weight
5 ft 6 in (1.68 m)
139 lb (63 kg)
ECAC Team
Harvard
Born

Sherbrooke, Quebec
May 8, 1985,
Pro Career
2005 – present
Sarah Marie Vaillancourt (born May 8, 1985 in Sherbrooke, Quebec) is a Canadian women's ice hockey player.
Playing career
Sarah Vaillancourt was the captain of Canada's Under 22 team at the 2007 Air Canada Cup. In 2003, she was the captain of Team Québec at the Canada Winter Games that won the Silver Medal. [1] One of her teammates was future Olympian Catherine Ward. She graduated from high school as a tri-varsity captain and athlete from Pomfret School in Pomfret, Connecticut as a member of the class of 2004.
Harvard Crimson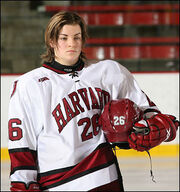 She was a star for the Harvard Crimson women's ice hockey program and won the Patty Kazmaier Award in 2008. Her freshman year was in 2004-05, and she finished fifth in the nation, and first among freshmen, in scoring with 2.31 points per game.[2]
Hockey Canada
In 2005, she made the Canadian national women's hockey team, where she would go on to play at the 2005 Women's World Ice Hockey Championships in Sweden. In her first game ever, she led Canada with 6 points in an 13-0 win over the Kazakhstan women's national ice hockey team. This tied a record for most points in a game on the Canadian national team. She would finish the tournament with 8 points. On February 20, 2006, Vaillancourt, as the second youngest member of the team, won a team gold medal in Turin with the Canadian Women's Hockey team beating Sweden in the final game and outscoring their opponents 46 to 2.
Montreal Stars
In the championship game of the 2011 Clarkson Cup, Vaillancourt scored a goal in the third period.[3] By winning the 2011 Clarkson Cup, Vaillancourt became an unofficial member of the Triple Gold Club (the accomplishment by women is not yet officially recognized by the IIHF), as she became one of only four women to win the Clarkson Cup, a gold medal in Winter Olympics, and a gold medal at the IIHF World Women's Championships. The other women include Caroline Ouellette, Jenny Potter and Kim St. Pierre.
Career stats
Hockey Canada
| | | | | | |
| --- | --- | --- | --- | --- | --- |
| Event | Games Played | Goals | Assists | Points | PIM |
| 2005 Women's World Championships | 5 | 3 | 5 | 8 | 2 |
| 2006 Olympics | 5 | 2 | 4 | 6 | 2 |
| 2007 Women's World Championships | 5 | 2 | 4 | 6 | 4 |
| 2008 Women's World Championships | 5 | 4 | 2 | 6 | 8 |
| 2009 Women's World Championships | 5 | 3 | 4 | 7 | 8 |
| 2010 Olympics | 5 | 3 | 5 | 8 | 6 |
Awards and honors
Ivy League and Eastern Collegiate Athletics Conference [ECAC] Rookie of the Year for the 2004/2005 season[5]
Top 10 Finalist for 2007 Patty Kazmaier Award [6]
First Team All-Ivy League, 2007-08, Harvard (Junior) , Unanimous selection
Ivy League Player of the Year 2007-08, Harvard (Junior) , Unanimous selection[7]
2009 First Team All-Ivy League[8]
Sarah Vaillancourt, 2009 First Team All-ECAC [9]
2009 ECAC Player of the Year [10]
References