Sarah Murray
WCHA
Swiss Team
Minnesota Duluth Bulldogs (2006-2010)
HC Lugano
Pro Career
– present
Sarah Murray was an ice hockey player for the Minnesota Duluth Bulldogs women's ice hockey team.
Playing career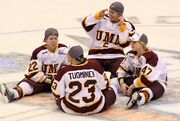 As a rookie, she broke her ankle in the first round of the WCHA Playoffs in 2007. Since the injury, Murray skated in 108consecutive games. Overall, she played in 142 career games, ranking her in a third place tie all-time among UMD alums. [1]
Personal
Murray and her Bulldogs teammates were part of a group of NCAA sporting champions that visited the White House in Washington, D.C. and listended to United States president Barack Obama congratulate them on their victory.[2]Murray is the daughter of former Los Angeles Kings and St. Louis Blues head coach Andy Murray, and is the sister of HC Lugano forwards Brady and Jordy Murray.
Awards and honors
WCHA Scholar Athlete award (2008)
WCHA Scholar Athlete award (2009)
WCHA Scholar Athlete award (2010)[3]
References