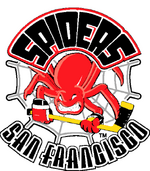 The San Francisco Spiders were a franchise in the former International Hockey League. The Spiders played their home games in the neighboring town of Daly City, California at the Cow Palace.
They competed for one season, folding at the close of the 1995–96 IHL season. During that one season, the Spiders roster took on a familiar look to the Cow Palace's previous hockey tenant, the San Jose Sharks. Dale Craigwell, Link Gaetz, Robin Bawa, David Maley, Ed Courtenay, Mike Lalor, and Sandis Ozolinsh all played for the IHL expansion team. The team finished last place in a very strong South division, despite winning 40 games and losing only 32. The Spiders lost 3–1 in the first round of the playoffs to the Chicago Wolves. Goalie Stephane Beauregard won league MVP.
Jean Perron served as both the General Manager and Head Coach and was assisted by Bruce Boudreau who is currently the Head Coach of the Washington Capitals.
Poor attendance and difficulties with the arena caused the team to suspend operations. On weekends, attendance tended to be respectable, around the 7–8,000 mark, but on weekdays, the Spiders often struggled to draw more than 2,500. The team was scheduled to move to Victoria, British Columbia in 2000, but this move never surfaced. Most of the players were traded away to other IHL teams for "future considerations." The Kansas City Blades received eight players from the Spiders.
A notable NHL player who played briefly for the Spiders is Sandis Ozoliņš. Ozolinsh, who was holding out for a new contract from the Sharks, played 2 games with the Spiders. He scored 1 goal, the first goal in team history, shortly before the NHL's San Jose Sharks traded him to the Colorado Avalanche.
Community content is available under
CC-BY-SA
unless otherwise noted.