The San Diego Skyhawks were a minor professional team in San Diego, California. They played in the Pacific Coast Hockey League from 1944 to 1950.
The Skyhawks played their home games at Glacier Gardens.
They won the President's Cup (league playoff title) in 1948-49.

A second incarnation of the team would play in the California Hockey League (1957-1963) for the 1960-61 and 1961-62 seasons.
Season-by-Season Records
[
]
Season
Games
Won
Lost
Tied
Points
Goals
for
Goals
against
Standing
Playoffs
1944-45
18
11
7
0
22
106
80
1st South
Lost Semi Final
1945-46
40
21
19
0
.525
145
139
3rd South
Lost Quarter Final
1946-47
60
33
26
1
67
194
160
3rd South
Lost Quarter Final
1947-48
66
32
31
3
67
242
258
3rd South
Lost Final
1948-49
70
32
35
3
67
249
275
3rd South
Won Final
1949-50
70
27
33
10
64
211
236
3rd South
Lost Semi Final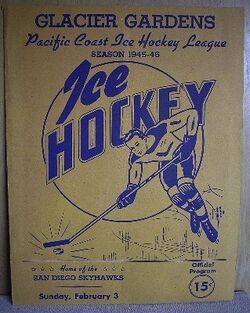 Skyhawks who played in the NHL

[

]