"Huskies" is the name of the sports teams of Saint Mary's University, located in Halifax, Nova Scotia. They are members of the Atlantic University Sport (AUS) conference and U Sports (formerly known as CIS).
SMU joined the Maritime Intercollegiate Athletic Association (MIAA) hockey league in 1929-30. The conference changed names in 1968-69 to the Atlantic Intercollegiate Athletic Association (AIAA), in 1973-74 to the Atlantic Universities Athletic Association (AUAA), and finally in 1998-99 to the present AUS. There are no Wikia links for SMU competing in non-university competition.
External links:
Season-by-Season Records TableEdit
MIAA/Senior 1929-30 to 1944-45Edit
NOTES:
MIAA divided into East and West sections in most seasons.
May have played in a Halifax league where divisional results are not available
MIAA 1945-46 to 1967-68Edit
NOTES:
There were some 4 point games from 1962-63 to 1964-65.
The two divisions were called Nova Scotia (NS) and New Brunswick (NB) in 1958-59 and 1959-60.
A one division format started in 1962-63.
AIAA/AUAA years with ties 1968-69 to 1996-97Edit
NOTES:
Two divisions in 1973-74, North and South.
Two divisions in 1979-80, East and West.
Two divisions in 1980-81 to 1981-82 and 1985-86 to 1996-97, Kelly and MacAdam.
The team was disqualified for using an ineligible player in 1983-84 and all games were forfeited.
AUAA/AUS years with ties and OT losses 1997-98 to 2005-06Edit
NOTES:
Two divisions in 1997-98 to 1999-00, Kelly and MacAdam.
One division format from 2000-01 onwards.
From 1997-98 to 2001-02 overtime losses were also included in the loss column.
AUA years without ties 2006-07 to presentEdit
Commemorations
Edit
University Cup Tournaments
Edit
Championships
Edit
MIAA - 1930, 1942
AIAA - 1969, 1970, 1971, 1972, 1973
AUAA - 1974, 1975, 1977
AUS - 2002, 2009, 2010
University Cup - 2010
Huskies who played in the NHLEdit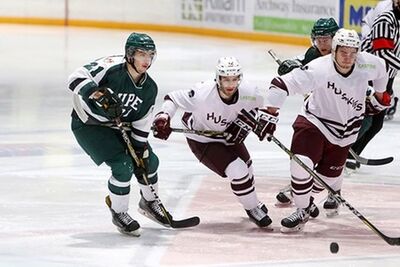 Alternative Logos
Edit
Participating Universities
Edit
Formerly Participating Universities
Edit
Formerly Participating Universities - no longer AUS members
Edit
Senior links:
National links:
Atlantic links:
Community content is available under
CC-BY-SA
unless otherwise noted.